'Spark of Light': Michael Bolton's New Album Ignites Fans With Timeless Melodies
For over five decades, Michael Bolton and his commanding and instantly recognizable vocals have serenaded us with timeless love ballads that trigger our heartstrings and take us back to our youth and young love. His tender lyrics and that iconic '90s mane won the hearts and adoration of many of his female fans (which includes a few of us).
With more than 65 million records sold worldwide, Bolton's impact on the music industry is undeniable. His Grammy and chart-topping hits "How Am I Supposed to Live Without You" and "When a Man Loves a Woman" are the most memorable.
Now, at age 70, the legendary artist radiates hope, promise and positivity through his new album release, aptly named Spark of Light, which was released July 15. It's his first original album in over a decade, cowritten by Michael and some of today's most successful writers, producers and artists. Side A features the title track and singles like "Eyes on You," "Beautiful World (feature Justin Jesso)" and "Whatever She Wants." Side B includes "Just The Beginning," "We Could be Something," "Out of the Ashes" and more.
"I felt a responsibility to help people feel a spark in their lives. Music is very powerful that way," Bolton tells Billboard. "We're all so humanly connected, we're so in need of some light. That became the working theme every day: 'How do we make [the music] make other people feel better?'"
Always willing to expand his career in different directions, in 2011 he teamed up with Lonely Island (Andy Samberg and company) for the SNL hilarious short Captain Jack Sparrow, which he described as one of the "most enjoyable, greatest experiences" of his career," adding how much he loved making the video. In 2021, the crooner was back in the spotlight as cohost of the short-lived Celebrity Dating Game.
Later this summer, you can catch Bolton performing in San Diego (Aug. 27), Los Angeles (Sept. 3) and then he's on to Europe for a few shows — Bulgaria (Sept. 10), Greece (Sept. 13), Portugal (Sept. 16) — before returning to the States with stops in Pennsylvania, West Virginia, Buffalo and Connecticut where he closes out the year.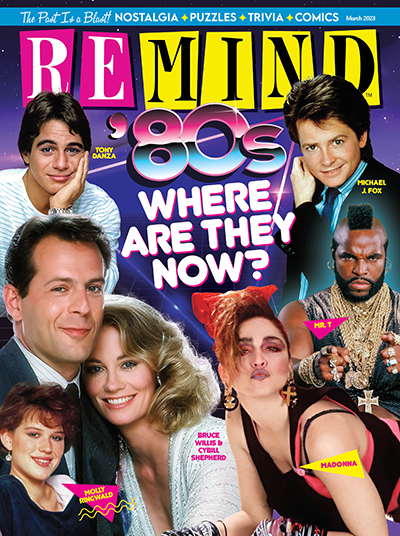 March 2023
Who can forget all the great TV shows, movies and music of the '80s? See what your favs are up to now!
Buy This Issue