Get Your Wallets Out, These Are the Best Nostalgic Tours Coming This Summer
We've told you about Micky Dolenz, Donny Osmond, and Frankie Valli and the Four Seasons going on tour this summer, so why not share the entire list of nostalgic performers making a comeback? Many stars that were popular in the '60s, '70s, and '80s are showing no signs of slowing down. Many of them are still creating new music or compiling albums and even going out on extensive nationwide or worldwide tours.
Some of the musicians you know and love may be heading to a city near you. Let's go over some of the incredible nostalgic performers heading out on tour this year. Don't worry, we will keep adding to this list if more tours are announced!
Aerosmith, with special guest the Black Crowes, are heading out on one last tour this year and into 2024. The huge tour will head to 40 cities and will play a very special show on New Year's Eve. The band wrote, "After 50 years, 10 world tours and playing for over 100 million fans, it's time for one last go. It's not goodbye it's PEACE OUT! Get ready and walk this way, you're going to get the best show of our lives." Click here to get tickets.
America the Band is ironically enough a British-American band that has been around for decades. They are doing a few shows this summer in America. Click here to get tickets.
There's nothing more summery than the Beach Boys' music! They are going on tour with Mike Love and Bruce Johnston. Get ready to jam to classics such as "Surfin' U.S.A." while you enjoy the sunshine. Lucky fans in Los Angeles could even get to see them on July 4th! Click here to get tickets.
Berlin's own Terri Nunn is getting a biopic just as Berlin is about to head out on tour with Boy George, Culture Club, and Howard Jones. Get your tickets here!
Another legendary rock band that has graced the charts for decades is heading to a city near you. Chicago is starting a massive tour that will take the group around the country all the way until November. Click here to get tickets.
Elvis Costello and the Imposters are ready for another summer tour. Called "100 Songs and More Tour," Costello sings some of his top hits including "Poisoned Rose." Click here to get tickets.
The Cure is going on tour in North America this year just as the release of a new book about the band comes out. Click here to get tickets.
View this post on Instagram
Dead & Company is heading out on their final tour so this is the last chance you have to see the band perform live! They are joined by John Mayer and many of the shows are already sold out. Click here to get tickets if there are some left in your city!
Micky Dolenz is the only surviving member of the Monkees and he isn't ready to let go of the group's legacy. Dolenz is currently on tour, singing many of the Monkees' greatest hits, all while paying tribute to his late band members, Davy Jones, Peter Tork, and Michael Nesmith. Click here to get tickets for the tour that runs through October.
The English rock band Duran Duran recently announced a new tour and a new album. Right now, they are touring with Nile Rodgers & CHIC this summer. Click here to get tickets.
Another band going on a farewell tour, Foreigner is set to make this tour their last. They are traveling all over the country this summer with the tour ending in November. Click here to get tickets before they sell out.
'80s pop icon Debbie Gibson is getting back on tour after years of staying out of the spotlight due to health issues. She finally discovered that she had Lyme disease and was able to get better. In 2021, she released her first album in 20 years, The Body Remembers. "Showbiz, it keeps me young," she said. "All I ever wanted to do as a kid was sing and dance and play dress-up and entertain. And I'm doing it, and doing it all these years later. I mean, I'm doing it, people." Click here to get tickets.
Gin Blossoms and Sugar Ray are planning on a co-headlining tour! Mark McGrath of Sugar Ray said, "I can't think of anything better than spending the summer with great friends playing music! This tour is a giant cavalcade of hits that just keeps delivering, and I'm always honored to share a stage with Gin Blossoms, Tonic and Fastball." Click here to get tickets for the 12-date tour.
Guess who else is touring this summer? The Guess Who, of course! They already began earlier this year and are set to rock out until late October. Click here to get tickets.
Jefferson Starship is cruising around the country this summer on a tour, with some dates featuring Bret Michaels too! Click here to get tickets.
Arguably two of the greatest singer-songwriters of all time are coming together for an amazing tour. Billy Joel and Stevie Nicks are heading out to several cities and Joel is also performing solo in some towns. The tour is being labeled "Two icons. One night." It certainly sounds like a dream come true for fans of both artists. Click here to get tickets to see either Billy Joel or Joel and Nicks together.
Journey's "Freedom Tour" may be coming to an end but there are still a few dates to go. If you want to hear the iconic songs "Don't Stop Believin'" and "Faithfully," you'll have to get your tickets here for the final few shows.
Reportedly, John Mellencamp is truly going nostalgic and sings mostly older songs on his tour even though he put out new music just last year. His extensive tour takes him all around the United States so get your tickets here.
Graham Nash, best known for being a part of Crosby, Stills & Nash is heading on a worldwide tour. Click here to get tickets.
Night Ranger is performing their hit song "Sister Christian" among others with some Damn Yankees thrown in too BerlinBerlinduring their summer/fall tour. They just kicked it off at Summerfest in Milwaukee. Click here to get tickets.
Donny Osmond, the heartthrob on the wall of many girls' bedrooms in the '70s, is going back on tour after exclusively playing in Las Vegas for quite some time now. Osmond is heading to 18 cities in the United States and is ready to show that "Sacred Emotion." Click here to get tickets.
After experiencing a health emergency on stage last summer in Michigan, Santana is doing well and is back on tour. He is heading around the country with his band and stopping in Las Vegas for several intimate shows. Click here to get tickets.
Bruce Springsteen and the E Street Band are heading to cities around the United States and Canada, starting in August and ending in December. Prior to the North America tour, the band is going to Europe to share about his "Glory Days." This is their first tour in North America since 2016. Click here to get tickets.
Rod Stewart is going to perform some of his greatest hits including "Have I Told You Lately" on a worldwide tour in the UK, North America, and more with some very special shows in Las Vegas. Click here to get tickets.
Sting is heading out on a very extensive tour around the world. Just weeks ago, he added more tour dates due to the popularity of the show titled "My Songs Tour." He will reportedly sing songs from his days with The Police to his solo career. Click here to get tickets.
51 years ago, Styx signed their first recording contract! They've been rocking out ever since and are heading out on a summer tour in honor of their newest studio album titled "Crash of the Crown." Click here to get tickets.
Frankie Valli just turned 89 years old but he's still out there jamming with his band the Four Seasons. He was recently honored with a street name in his hometown of Newark, New Jersey, and is currently on tour playing some of his favorite tunes. Click here to get tickets.
The Violent Femmes are set to head out around the country this October. Click here to get tickets.
Despite canceling a recent show due to a minor health issue, Dionne Warwick is set to continue her summer tour. Click here to get tickets.
ZZ Top and Lynyrd Skynyrd are teaming up for the show of a lifetime! They even combined their top songs into a mashup tour title: "The Sharp Dressed Simple Man Tour." Click here to get tickets.
Which artist(s) are you most excited to see perform live? Did we miss any? Let us know!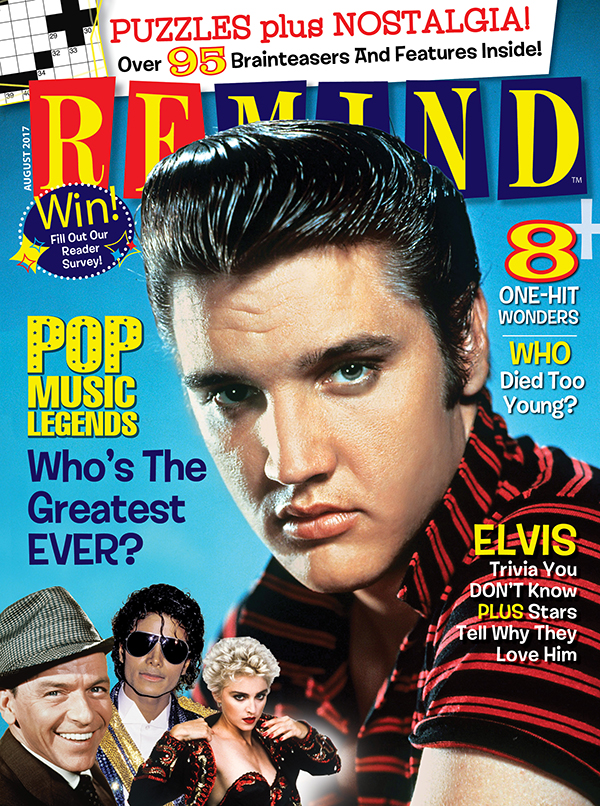 August 2017
Dedicated to the sights, sounds and stories of the golden age of pop.
Buy This Issue