'St. Elmo's Fire' Stars Demi Moore and Andrew McCarthy Reunite After Years and Years
Brat Pack star Andrew McCarthy is on a reunion tour of sorts. We previously shared that McCarthy recently reunited with his Pretty in Pink co-star James Spader and revealed that he is working on a documentary about the Brat Pack, the exclusive club of several teen stars in the '80s. His most recent reunion featured actress Demi Moore, who starred with McCarthy in the 1985 hit film St. Elmo's Fire along with Rob Lowe, Emilio Estevez, Judd Nelson, and Ally Sheedy, among others.
St. Elmo's Fire was a big deal for both Moore and McCarthy as it was one of the first films that secured them a spot in Hollywood fame. McCarthy shared a photo on his Instagram page, complete with a throwback from the film to a recent photo of their reunion, with Moore holding an adorable pup. He wrote, "So great to see (for the first time in years and years) my St. Elmo's Fire co-star, the wondrous Demi Moore, and catch up for my Brat Pack documentary."
View this post on Instagram
After the '80s ended, Moore continued acting but McCarthy decided to go behind the camera and has directed shows such as Gossip Girl and Orange is the New Black. He only recently decided to accept his fate as part of the Brat Pack with the documentary because he shunned the idea of being a part of the group in the past. In 2020, he released a memoir that explores the days in his life working on those iconic films and the struggles he faced with drug and alcohol addiction soon after.
He admitted, "I've carried the brat pack around with me all these years, I thought it was time I took a good look under that rock. What I found surprised me." Fans of the films have been enjoying the reunion selfies and cannot wait for the documentary, which promises to give an inside look into those days. McCarthy said he hopes to explore the experiences of his former co-stars and compare them to his own.
McCarthy added, "This is a personal journey of discovery. It's been pulling at me for years. I need to know if the other members of the Brat Pack have felt like I've felt or if they've had a different experience entirely." Who is your favorite member of the Brat Pack?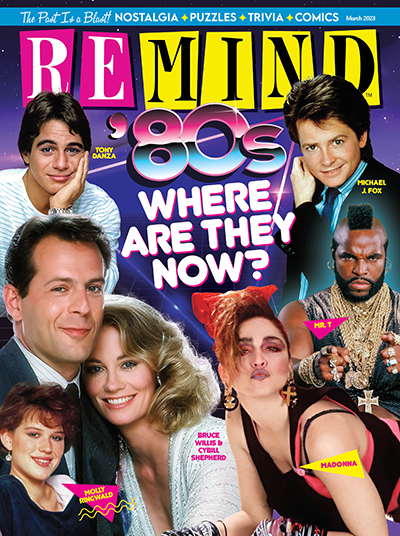 March 2023
Who can forget all the great TV shows, movies and music of the '80s? See what your favs are up to now!
Buy This Issue