5 Things We Know About New 'Brat Pack' Documentary
The "Brat Pack" is coming back! Emilio Estevez and Andrew McCarthy recently reunited after over three decades of being apart due to a very special project. The two starred in the 1985 film St. Elmo's Fire, which followed a group of recent college graduates trying to figure out their new adult life. Brat Pack stars Rob Lowe, Demi Moore, Judd Nelson, Ally Sheedy, Andie MacDowell, and Mare Winningham rounded out the impressive cast of the film that has since become a classic.
McCarthy revealed that he has a documentary about his old pals in the works. He shared in a social media post which included a new photo of himself and Estevez alongside a throwback photo from the '80s, "Hadn't seen my old ST. ELMO'S FIRE costar, Emilio Estevez in more than 30 years, when we got together to chat for my upcoming Brat Pack documentary. Felt like meeting a long lost brother. We also share the Camino de Santiago. He made a terrific film about it – THE WAY. And I've got a new book about walking the 500 miles with my son, WALKING WITH SAM." (Click here to purchase the new book!)
The documentary is directed and produced by Andrew McCarthy
View this post on Instagram
While McCarthy still acts from time to time, in the last few decades, he has mainly focused on directing. He's been in the director chair for shows such as Gossip Girl and Blacklist but decided to take a walk down memory lane for his new project. The documentary promises to follow members of the Brat Pack, a group of actors that appeared regularly in '80s films, based on his memoir Brat: An '80s Story. McCarthy will reunite with actors he hasn't seen in decades, like Estevez, to talk about their shared and unique experiences.
The documentary will discuss the Brat Pack's experiences working on these iconic films
McCarthy told Deadline, "This is a personal journey of discovery. It's been pulling at me for years. I need to know if the other members of the Brat Pack have felt like I've felt or if they've had a different experience entirely." McCarthy hopes to find out if he had a shared experience and how his fellow actors felt working on films such as The Breakfast Club, Pretty in Pink, Sixteen Candles, and of course, St. Elmo's Fire. In his memoir, McCarthy struggles to work out if this was the best time of his life … or the worst, and now he's curious about what others have to say.
This isn't the first time the Brat Pack has been explored
Over the years, fans have had a slight obsession with the Brat Pack and the movies they created. This won't be the first documentary to explore how the actors feel being a part of such an important time in pop culture, but it will be the first time one of their own has created it. In 1999, E! talked to the crew, including McCarthy, for an E! True Hollywood Story exploring the Brat Pack. In 2007, the show Biography also did an episode on the Brat Pack.
Network Entertainment has acquired McCarthy's memoir and will produce the documentary
McCarthy is working with Brian Liebman from Liebman Entertainment and Derik Murray, Paul Gertz, and Brian Gersh from Network Entertainment. Gersh shared about the project with Deadline, "The book explores a defining moment in pop culture through the lens of a charter member of Hollywood's Brat Pack, and we are excited to partner with Andrew as he dives deep into his quest to understand what it has meant to be part of this iconic group of actors." At the time of posting, there is no word on a potential release date or where the film will be available to watch. However, McCarthy has been seen reuniting with stars such as Estevez and James Spader, so the documentary is clearly in the works.
McCarthy used to avoid his former costars and the Brat Pack fame
He wasn't always interested in talking about the Brat Pack or even being included in the group. He told GQ, "I had avoided the Brat Pack for so many years, and I had stock answers if you asked me about things, but I'd never really looked at it. I thought, I'm probably doing myself a disservice by not examining what was the most defining few years of my life by willfully ignoring that." He added that the phrase Brat Pack was once a bit of an insult to him and his fellow stars but now says he sees it as a term of endearment of a decade that people love to look back on.
We can't wait to see the documentary when it finally comes out!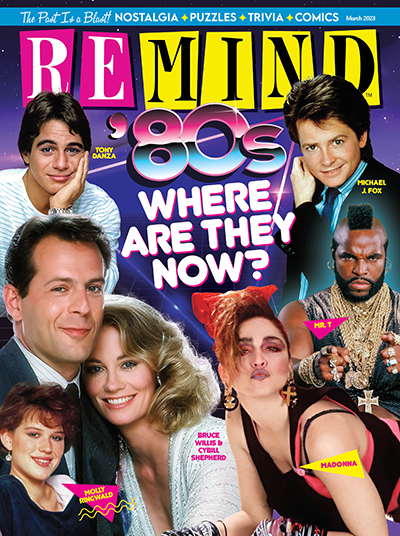 March 2023
Who can forget all the great TV shows, movies and music of the '80s? See what your favs are up to now!
Buy This Issue