Catching Up With Brat Pack Alum Ally Sheedy
Though she is most well-known for her role as the rebel teen Allison in the 1985 John Hughes-directed hit The Breakfast Club, these days, Ally Sheedy is enjoying playing the complicated, controlling-but-lovable mother of a recovering alcoholic on Freeform's Single Drunk Female. (She will even be reuniting with Molly Ringwald, who plays her sister-in-law, this upcoming season!) With Season 2 on the horizon (premiering Wednesday, April 12 at 10pm EST), Sheedy was happy to sit down with us and answer some questions about her long and fascinating career.
What are your favorite roles that you've had over the years?
Allison, Lucy in High Art and Carol [from Single Drunk Female]. And if you want to put in a fourth one, I loved working on the show Psych where I played this crazy character named Yang. I love that one, too.
Would you return to any of these characters, if asked?
I would go back and play Yang on Psych at any moment. I wouldn't revisit Allison, and I wouldn't revisit Lucy, no.
So no one has approached you about a remake of The Breakfast Club?
Oh, they have tried. There have been so many people who have tried and talked about it and discussed it all over the earth, but it will never happen.
What's a memorable job you've had, before Hollywood?
I was a ballerina, and my first time on an actual stage was when I was 7 years old in a ballet at Lincoln Center called Etudes. It was with American Ballet Theatre. And I got paid to do that. So, if somebody says, "What was your first job?" That's the job I remember.
What's a typical fan experience like for you these days? What characters are people recognizing when they see you?
It's a mixed bag. To tell you the truth, when I go out places, I'm really, really anonymous. I think people expect an actor to walk in looking glamorous, and I'm not glamorous. I can pretty much go anywhere without anybody really recognizing me. If I don't wear makeup and just keep my head down and do my thing, it doesn't usually come up. Sometimes it does. And when it does, it's a really mixed bag. But remember, I'm in New York. So, there's a lot of people that saw High Art and a ton of people who obviously saw Breakfast Club. I have had people recognize me from Single Drunk Female, which is cool. But I'm really, really, really good at maintaining a certain kind of anonymity when I'm out and about in the world.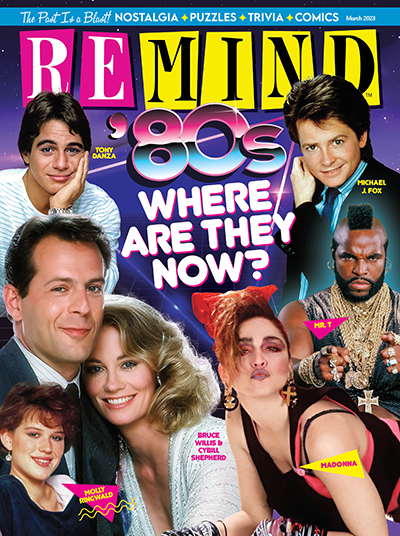 March 2023
Who can forget all the great TV shows, movies and music of the '80s? See what your favs are up to now!
Buy This Issue