'The Outsiders' 40 Years Later: Where Is the Cast Now?
Stay gold, Ponyboy! The late 1960s-set film about a teen gang in rural Oklahoma hit theaters on March 25, 1983, and featured a relatively unknown cast who would go on to much bigger things in Hollywood. Directed by Francis Ford Coppola, the film was based on S.E. Hinton's classic coming-of-age tale (Susan Eloise Hinton, who changed her name to S.E. to make it appear as if she was a male, was just 17-years-old when the book was published). Teens swooned over the tight white T-shirts and leather jacket-bearing cast, and the film's relatable storyline of the struggles of just trying to fit in and find someone who understands your problems.
Take a trip down memory lane and celebrate The Outsiders and the cast on the 40th anniversary.
Matt Dillon
Playing the hotheaded lady-killer "Dally" Winston, Matt Dillon became a mainstay in Hinton film adaptations, also starring in Tex (1982) and Rumble Fish (1983). He was later Oscar-nominated for Crash (2004) and finessed his comic chops in There's Something About Mary. More recently he starred in 2022's American Dreamer and is set to appear in Wes Anderson's Asteroid City and the Apple TV+ comedy series High Desert.
Patrick Swayze
Cast as oldest brother Darrel "Darry" Curtis, Patrick Swayze remained an enduring fixture of 1980s and '90s pop culture. Romances like Dirty Dancing and Ghost established his status as a sex symbol, while roles in films like Point Break and Road House cemented his place as an action star. Swayze was just 57 when he lost his fight against pancreatic cancer in 2009. Fans of Swayze should watch Paramount+'s 2019 documentary I Am Patrick Swayze.
Ralph Macchio
Playing Johnny Cade in The Outsiders helped Ralph Macchio land the part that would define his career: Daniel LaRusso in the Karate Kid films. He would later costar as Joe Pesci's nephew — one of the "yutes" he defends — in My Cousin Vinny. Macchio's career has seen a resurgence thanks to Netflix's Karate Kid sequel series Cobra Kai. Cobra Kai is hanging up its karate belt after its forthcoming sixth and final season which is set to be its "biggest" and "baddest" to date (premiere date is still to be announced).
C. Thomas Howell
After his breakthrough role as Ponyboy Curtis, C. Thomas Howell (pictured center on the set of The Outsiders, along with Lowe and Swayze) starred in a number of '80s films, including Soul Man and Red Dawn (after his 1982 debut in E.T. the Extra-Terrestrial). He's since had countless small parts in films such as Gettysburg and The Amazing Spider-Man, and TV shows including Criminal Minds, Animal Kingdom and The Walking Dead. He's set to appear next in the Dennis Quaid-led biopic Reagan. In the music world, however, he's more recently known as Tommy Howell and is currently touring and doing a really cool show "Backstage With Tommy Howell and Friends." The venue is set in Nashville and includes a rooster of friends including cast members of Cobra Kai (May 13), Charlie Sheen (May 19), Kevin Dillon (May 26), cast of E.T. (June 2) and Adam Carolla (June 9).
Emilio Estevez
A familiar face among the Brat Pack of young '80s Hollywood Turks, Emilio Estevez — "Two-Bit Matthews" in The Outsiders — starred in pivotal period films such as The Breakfast Club and St. Elmo's Fire. In the '90s, this son of Martin Sheen and brother of Charlie Sheen found continued success as coach Gordon Bombay in three Mighty Ducks films — a role he returned to in the recent Disney+ revival.
Rob Lowe
The darling Rob Lowe was the middle son in the Curtis family portraying the forever remembered Sodapop in his breakthrough performance. He followed this with St. Elmo's Fire and About Last Night…, which helped earn Lowe his longstanding reputation as a teen idol. In the '90s, he parlayed that image into villainous roles in comedies Wayne's World and Tommy Boy before evolving further on TV: as Sam Seaborn on The West Wing and the relentlessly upbeat Chris Traeger on Parks and Recreation. The always-working Lowe now fronts the drama 9-1-1: Lone Star. He's also penned a few books about his incredible career in Hollywood, including Stories I Only Tell My Friends: An Autobiography, where he credits The Outsiders for placing him at the birth of the modern youth movement in the entertainment industry.

Tom Cruise
Where is Tom Cruise now? Everywhere! From his early role as a hot-headed greaser in The Outsiders and the leading male in romantic comedies Risky Business and Jerry Maguire, to action tentpoles Mission: Impossible and Jack Reacher, Cruise has been churning out beloved hits for over four decades — and famously does his own stunts (in The Outsiders, he did that backflip off the truck, just because he could). The long-awaited sequel Top Gun: Maverick was the highest grossing film of 2022, and the next two Mission: Impossible movies are currently in production.
Leif Garrett
The rivals to the greasers were the Socs (Socials), who were from the more affluent West side of town in The Outsiders. Leif Garrett's character, Bob, was the jerk of the group and the one who started all the trouble in the film. While Garrett's screen time in the film was short-lived, the sleepy-eyed, flaxen-haired star was already a teen heartthrob having starred on a handful of sitcoms and for his music. He actually told our sister magazine in a 2012 interview that life was going great, until after The Outsiders.  "Everything was absolutely perfect up until '84. And '84 was when the Scotti Brothers made the mistake of telling Paramount and Universal that I didn't want to sign to a two-picture deal after doing The Outsiders. They started their own production company with me doing a movie about … foosball. Are you out of your fricking minds? I just did The Outsiders and you're having me do a B-movie about foosball now?." Garrett shared. "I knew how we had to make my crossover to adulthood. But the people who were in charge, supposedly, had no intention of ever letting me have any kind of say in anything. I would have made a better choice than believe what I was told." Today, Garrett wants to be known more for his music than his mistakes, and he's shared his remarkable career and life in his memoir Idol Truth.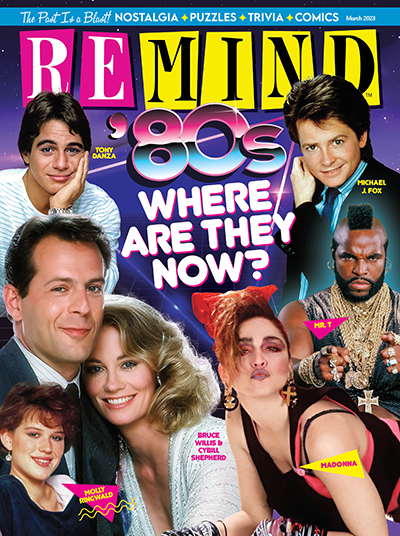 March 2023
Who can forget all the great TV shows, movies and music of the '80s? See what your favs are up to now!
Buy This Issue