Bruce Springsteen Gives an Update on His Health & Tour
Bruce Springsteen has a new pep in his step. The 74-year-old just announced that he will resume his U.S. tour next spring, with dates starting in March. Springsteen and his E Street Band were forced to cancel several shows and eventually, the 2023 tour because Springsteen is suffering from peptic ulcer disease.
Springsteen joked on a recent episode of his SiriusXM E Street Radio show about his disease but did confirm he had been in some serious pain. He introduced himself as "your favorite rock star with a bitch of a bellyache!" and later shared, "Let me take a moment and thank my fans affected by our postponed shows for their understanding. I am deeply sorry but this belly thing, despite my ability to laugh at it, has been a monster and is still unfortunately rocking my internal world."
Peptic ulcer disease is fairly common and happens when sores or ulcers form in the lining of the stomach or the first part of the small intestine. This can cause some awful stomach pains as well as heartburn, nausea, vomiting, and bloating. The disease can get very severe and even cause a bacterial infection. It can be caused by the presence of the bacteria Helicobacter pylori in your system or the overuse of prescription nonsteroidal anti-inflammatory drugs (NSAIDs) or over-the-counter pain relievers.
Many ulcers can heal on their own but some require treatments including antibiotics and other medications. Springsteen is likely resting and taking doctor's precautions to get better so that he can resume his tour in about six months. Even some of Springsteen's bandmates had no idea he was in that much pain and called him "a tough guy."
Steven Van Zandt of the E Street Band revealed, "I got to tell you the truth, we had no idea how much pain (Bruce Springsteen) was in. We were just as surprised as everyone else to learn the extent of his illness. It was remarkable when we found out that he had been in pain for five shows at least, he is just a tough guy."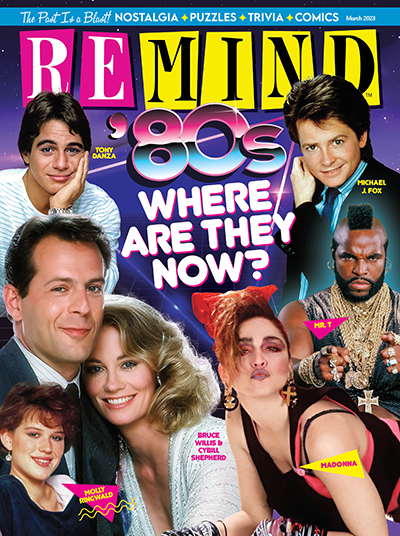 March 2023
Who can forget all the great TV shows, movies and music of the '80s? See what your favs are up to now!
Buy This Issue