Get Ready to Rock Out to a New Rolling Stones Album Featuring Lady Gaga
The Rolling Stones are releasing their first original music album in about twenty years. The new album called Hackney Diamonds features some iconic guests including Elton John, Lady Gaga, and Stevie Wonder. The band just unveiled the music video for their first single called "Angry" at a special press event in East London.
In the music video, actress Sydney Sweeney can be seen being driven through the streets of Los Angeles in a red convertible. Meanwhile, the billboards all around the streets come alive as the band performs the song. Sweeney said about getting the call to appear in the video, "Oh, gosh. I mean, I freaked out, called my family, and brought my mom. I loved the song when I heard it. It's been stuck in my head."
Bandmate Mick Jagger explained that anger and disgust are the themes of the album. They recorded 23 songs back in December and included 12 of those tracks on the new album, working with producer Andrew Watt. Another highly-anticipated track on the album is called "Sweet Sound of Heaven" featuring Lady Gaga which Jagger called "gospel-flavored," to which Keith Richards joked "You've never been to church in your life."
The band's last studio album full of original material was released in 2005. They did release a new album in 2016, but it was comprised of blues covers. Jagger admitted that they have "been very lazy" about writing and recording new music but added that it is mostly because the band is always on tour.
The full album will be released on Oct. 20. Are you excited? Let us know which song you're anxiously waiting to listen to! Here is a list of all of the tracks on the album:
"Angry" (with Watt)
"Get Close" (with Watt)
"Depending on You" (with Watt)
"Bite My Head Off"
"Whole Wide World"
"Dreamy Skies"
"Mess It Up"
"Live by the Sword"
"Driving Me Too Hard"
"Tell Me Straight"
"Sweet Sounds of Heaven"
"Rolling Stone Blues"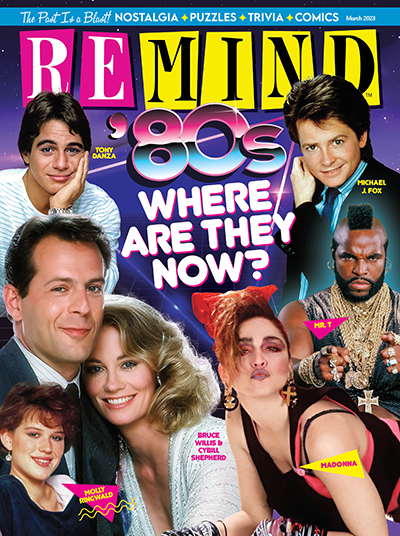 March 2023
Who can forget all the great TV shows, movies and music of the '80s? See what your favs are up to now!
Buy This Issue