Wild Boys: Duran Duran's Best Hits Over the Years
When you think of MTV in the 1980s, one of the bands that probably comes to mind pretty quickly is Duran Duran (Did you know they got their name from the classic film Barbarella? There was a character called Durand-Durand.)! They are an English rock band that was originally comprised of singer and bassist Stephen Duffy, keyboardist Nick Rhodes, and guitarist/bassist John Taylor when they began in 1978. While the band members have changed over the years, most notably adding Andy Taylor and lead vocalist Simon Le Bon, their music remains iconic.
So iconic that they are set to have a concert special released plus a new album! They are also currently on tour with Nile Rodgers & CHIC (find all of their tour dates and more here!) More on that later, but first, let's go over some of their best songs in honor of Nick Rhodes' birthday on June 8th.
"The Wild Boys"
The song was based on a suggestion from video director Russell Mulcahy. He saw the success of Queen as they filmed a soundtrack for the 1986 film Highlander. He wanted to create a film based on the novel The Wild Boys: A Book of the Dead by William S Burroughs. This sparked the idea for this song and was the only studio track on their live album Arena. It ended up being a big hit.
"A View To A Kill"
This song was written by the band and featured in a James Bond film based on bassist John Taylor's love of the Bond movies. He reportedly asked a producer of the films when they were going to get someone decent to do their theme songs. Instead of being insulted, he gave the band a chance and the song became a number-one single in the United States.
"Hungry Like the Wolf"
Perhaps the band's most well-known song, it became a top hit in the U.S. and the UK. It was actually written and recorded in one day. While many have speculated what the lyrics mean over the years, Taylor has confirmed that he doesn't even really know what they mean.
"The Reflex"
Another song that doesn't really have a meaning, Simon Le Bon admitted he has no clue what the song means and said they recorded it while drunk on wine. It was their last number-one single in the UK.
"Girls on Film"
The raunchy music video became a classic on MTV and helped spark their fame. Co-writer Andy Wickett said that he was inspired to write the song by "the dark side of the glitz and glamour."
"Rio"
The idea for the song came from Rio de Janiero but ended up being about a girl named Rio. It includes a saxophone solo by Andy Hamilton who has worked with other greats including Elton John and George Michael.
"Save A Prayer"
A slower song, about a chance encounter, remains one of their classics.
"Planet Earth"
This song is about two people falling in love despite the Earth facing a huge environmental crisis. It is meant to call action to environmental efforts to help save our planet. Duran Duran was inspired to write the song based on environmental issues in the '80s, more specifically pollution and deforestation. It still holds up today. Which of these songs (or a song not mentioned) is your favorite?
Now, let's talk about the exciting things ahead for Duran Duran. Their 2022 concert movie called A Hollywood High is coming out on DVD and Blu-ray. The concert was filmed at The Aster in Los Angeles and contains 12 performances along with additional behind-the-scenes footage and interviews. They are also getting ready to release their 16th studio album featuring Simon Le Bon, John Taylor, Nick Rhodes, and Roger Taylor plus a reunion with Andy Taylor.
The group confirmed the news of an album and a tour on social media by sharing, "Duran Duran are thrilled to confirm a special new music project is in the works, set for release later this year on BMG. The new recordings will feature extended Duran Duran family and friends, old and new, including our former band mate Andy Taylor, who will join us on guitar on a few tracks. Simon, Nick, John and Roger look forward to seeing you all out on the road this year!"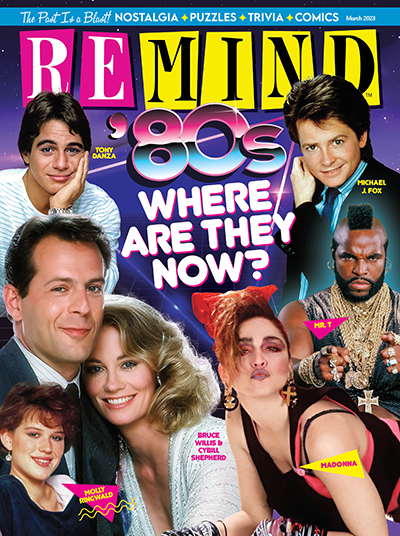 March 2023
Who can forget all the great TV shows, movies and music of the '80s? See what your favs are up to now!
Buy This Issue