Where Are They Now? The Cast of 'Family Ties'
Ah, the struggle of politics and differing opinions within the family unit. Nothing exemplifies this phenomenon better and funnier than Family Ties. Set in the suburbs of Ohio, one couple of former hippies are raising their children who have very different views on life. The show aired from 1982 until 1989 and proved to be a launching point for Michael J. Fox's long and successful career.
The show was actually based on what the creator Gary David Goldberg saw in families in real life and was meant to show how the liberalism of the '60s and '70s clashed against the conservatism of the '80s. Family Ties ended up earning several Emmys and was very popular on NBC. Have you ever wondered what the Keaton family is up to now? Let's find out.
Michael Gross (75)
Steven Keaton
His most iconic role was playing husband and father Steven Keaton. This was the breakout role for Michael Gross and it kept him acting for decades after in films such as Tremors and appearances on ER, How I Met Your Mother, Grace & Frankie, Suits, and more.
Gross reconnected with his former TV wife in 2015's Becoming Santa as the pair played Mr. and Mrs. Santa Claus. Fun fact: they also share a birthday and have remained friends over the years. Gross is now 75 years old and is the spokesman for the World's Greatest Hobby campaign since he is an amateur railroad historian.
Meredith Baxter (75)
Elyse Keaton
Meredith Baxter played a hippie turned doting mother in Family Ties after her big break in Bridget Loves Bernie. Her mother is Whitney Blake (Hazel), making her a nepo baby. The show One Day at a Time was created by Blake and is based on her life as a single mother. Baxter continued to work after Family Ties as both a producer and actor in films such as The Kissing Place and The Betty Broderick Story.
She also shared a memoir about her addiction struggles and abusive marriages. She was diagnosed with breast cancer in the '90s but has since recovered and seems to be doing well at 75. Her most recent role was in another Christmas film called Christmas on the Vine.
Michael J. Fox (61)
Alex P. Keaton
Family Ties was the big break that Fox needed and helped him to get one of his most iconic roles as Marty McFly in Back to the Future. After Family Ties, Fox starred in the show Spin City and won an Emmy for his role as Mike Flaherty. He continued to appear in Back to the Future sequels and even had his own show, The Michael J. Fox Show.
While his career has since slowed down after his diagnosis of Parkison's disease, he still attends conventions and often reunites with his Back to the Future co-star Christopher Lloyd. He created the Michael J. Fox Foundation to help find the cure for Parkinson's and detailed his tough journey with the disease in his recent documentary called Still: A Michael J. Fox Movie.
Justine Bateman (57)
Mallory Keaton
Justine Bateman was charming as the loveable but a bit ditzy Mallory Keaton. After Family Ties, she appeared in the show Men Behaving Badly and went on to write, produce, and act. She ran and operated the production company Section 5 and also directed Violet in 2021.
Bateman is the older sister to actor Jason Bateman and they have appeared in two films together How Can I Tell If I'm Really in Love (1987) and Can You Feel Me Dancing? (1986). Bateman has a love of thrill and likes to stay busy as she is a licensed pilot, certified scuba driver, and fashion designer.
Tina Yothers (50)
Jennifer Keaton
Tina Yothers got the role of Jennifer Keaton at nine years old. After Family Ties ended, she began to perform with the band Jaded and started acting and singing in musicals.
While she has mainly focused on music, she did appear on Celebrity Wife Swap in 2012 and What Not to Wear in 2013.
Brian Bonsall (41)
Andrew "Andy" Keaton
Brian Bonsall got his start on Family Ties even younger than Yothers at the age of five. He appeared in some movies in the '90s including Blank Check and Father Hood but soon took Yother's lead and found a love for music. He formed the band Late Bloomers but eventually got caught up in trouble as former child stars often do.
View this post on Instagram
He has said he is now sober and is getting back into acting, with his most recent role being in the 2022 film You're Melting, and is currently a member of the band Sunset Silhouette.
Marc Price (55)
Irwin "Skippy" Handelman
Marc Price played the nerdy neighbor that ended up being a fan-favorite character. He mostly decided to stop acting after Family Ties and switched to stand-up comedy, writing, and producing for TV.
He appeared on Last Comic Standing in 2006 and has been a regular performer at Harrah's Las Vegas.
Scott Valentine (65)
Nick Moore
Scott Valentine played Mallory's main love interest and ended up getting a spin-off series called The Art of Being Nick that never actually got picked up. After Family Ties, he appeared in some shows as a guest star including Murder, She Wrote, and CSI: NY.
Currently, he is the managing director at Excelsior Capital Partner investment firm.
Tracy Pollan (62)
Ellen Reed
Tracy Pollan played Alex's early love interests and television ended up turning into reality when a few years later, Pollan and Fox got married in real life. They are still together today.
While she doesn't act much these days, she did appear in the 2022 miniseries Inventing Anna.
Who was your favorite Family Ties character? It is great to see that all of the stars seem to be doing relatively well all these years later.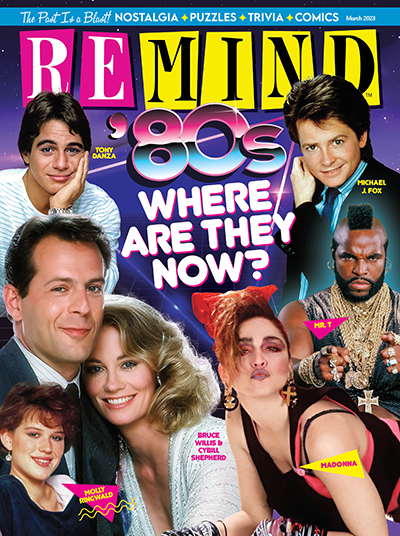 March 2023
Who can forget all the great TV shows, movies and music of the '80s? See what your favs are up to now!
Buy This Issue