The Cast of 'Cheers': Where Are They Now?
If you're in need of some comfort TV, where else to turn to except the bar where everybody knows your name? Cheers is perhaps one of the greatest sitcoms of all time with some very familiar faces that graced our television screens for 11 seasons (1982-1993). It also spawned the popular spin-off series Frasier (find out what happened to the cast of Frasier here!), which is gearing up to air a revival series.
Have you ever wondered what happened to the bar patrons and workers in Cheers? Now is your chance to find out. Bonus fun fact: the actual bar used in the show is currently up for auction and stars George Wendt and John Ratzenberger reunited for one last drink at the bar before it sells to the highest bidder in June.
Ted Danson (75)
Sam Malone
Ted Danson played the ladies' man and bartender of the series. The on-again-off-again relationship between Sam and Diane in the first few seasons is a highlight of the show. Danson is now 75 years old and has been married to fellow actor Mary Steenburgen since 1995, just two years after the end of Cheers. He found success in films such as Three Men and a Baby, Made in America, and Saving Private Ryan. After Cheers, he starred in Becker, as Dr. John Becker who is constantly annoyed by everything. Later on, he played a completely different role as a happy-go-lucky demon in The Good Place and currently stars in the show Mr. Mayor.
Danson is also known for his philanthropic efforts and was arrested alongside his wife's recent co-star Jane Fonda at a climate change protest in 2019.
Shelley Long (73)
Diane Chambers
Shelley Long's character Diane came to the bar down on her luck and was hired by Sam, and the two eventually fell in love. She left the show during season five to spend more time with her daughter and eventually focus more on movies. She starred with Tom Hanks in The Money Pit and the fan-favorite film Troop Beverly Hills. Long did re-appear for the finale of Cheers and appeared in a few episodes of Frasier, both prompting Emmy nominations.
Recently, she played DeDe Pritchett, the ex-wife of Jay and mother of Claire and Mitchell on Modern Family. She appeared in the films The Cleaner with Lynda Carter and Give Me Pity!, as well as voiced Grandma Murphy in Milo Murphy's Law.
Rhea Perlman (75)
Carla Tortelli
Rhea Perlman played the mean-spirited waitress Carla, who was often making fun of Diane. She was one of the only cast members to appear in all 275 episodes of Cheers, along with Ted Danson and George Wendt, and won four Emmy awards for her role. After Cheers, she starred in her own short-lived series called Pearl. She recently played Annette Castellano on The Mindy Project and lent her voice to the animated series Star Wars: Bad Batch and Harley Quinn.
She will appear in the highly-anticipated Barbie film and was recently seen in You People. She's been married to Danny DeVito since 1982 but they have been separated since 2017, although Perlman says that they remain close friends. She also writes children's books in her spare time.
George Wendt (74)
Norm Peterson
NORM! He was a frequent patron of the bar, hanging out, enjoying a cold one as a way to avoid his wife. Originally, he was not supposed to be a main character but Wendt charmed the audience and made Norm one of the most iconic sitcom characters ever.
After Cheers, Wendt appeared in the short-lived The George Wendt Show, Fletch, Sabrina, the Teenage Witch, and Forever Young. In recent years, he was part of the TBS mini-series Clipped and guest-starred on The Goldbergs, and was seen on The Masked Singer as "Moose."
Nicholas Colasanto (d. 1985)
Coach Ernie Pantusso
Unfortunately, the world only got to see Nicholas Colasanto on three seasons of Cheers as the hilarious Coach because he passed away in 1985 at 61 years old. He had plans to retire after years of directing shows such as CHiPs and Bonanza but ultimately decided to join the cast of Cheers and we are so glad that he did.
After years of being an alcoholic, the damage was done even though he got sober in the '70s and it led to his untimely death. The show dealt with his death by sharing that his character had died and Woody Harrelson's Woody Boyd came on as a replacement of sorts in the fourth season.
Woody Harrelson (61)
Woody Boyd
When Coach passed away, Woody Harrelson's character Woody stepped in to take his bartending job. Harrelson is a big-time movie star now, but he wasn't that famous prior to Cheers. After the show ended, he starred in films such as The People vs. Larry Flynt, Natural Born Killers, The Hunger Games, Zombieland, and the series True Detective.
He recently starred in the mini-series White House Plumbers and the film Champions. In his personal life, Harrelson is a strict vegan and is a huge supporter of marijuana and hemp.
Kelsey Grammer (68)
Frasier Crane
Kelsey Grammer played psychiatrist Frasier Crane, a character, much like Norm, who wasn't originally supposed to be a main role. Yet, the audience loved him so much that he got his own successful spin-off, Frasier. A reboot is currently in the works that will share what Frasier is up to several decades later. After Cheers and Frasier, Grammer did some stage acting and voice acting in Anatasia and The Simpsons.
He recently starred in the film Jesus Revolution and unfortunately has had his fair share of struggles with drugs, alcohol, and relationships. He has been married four times and has seven children in total, with a few of his children following in his acting footsteps.
John Ratzenberger (76)
Cliff Clavin
John Ratzenberger actually auditioned for the role of Norm but fit in better as the know-it-all Cliff Clavin, who often annoyed everyone in the bar. After Cheers, Ratzenberger chose to do more voice work than acting and is best known for being the voice of Hamm in the Toy Story franchise. He is a staple in Pixar films voicing characters in films such as WALL-E, Soul, Luck, and Cars.
From 2004 to 2008, he hosted the TV documentary series Made in America. These days, he recently appeared in an episode of the series Poker Face.
Kirstie Alley (d. 2022)
Rebecca Howe
After Long left the series, Kirstie Alley's character Rebecca came in and was a sweet addition to the show. Some of her biggest movie roles after Cheers include Look Who's Talking with John Travolta and David's Mother and shows Veronica's Closet, Hot in Cleveland, Dancing with the Stars, and The Masked Singer. Alley was big into Scientology over the years and credited it for saving her from drug addiction.
Sadly, she died in 2022 at the age of 71 after a battle with colon cancer.
May 20th marks the 30th anniversary of the finale of Cheers and Pluto TV is celebrating! Catch a marathon of the final season of Cheers, starting at 10 am ET on Pluto TV's Sitcom Legends channel. Now tell us, which Cheers character is your favorite?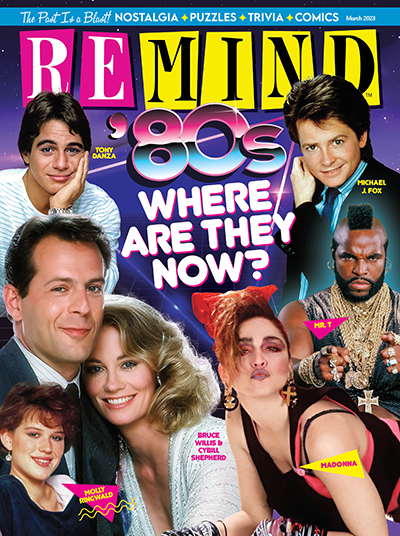 March 2023
Who can forget all the great TV shows, movies and music of the '80s? See what your favs are up to now!
Buy This Issue