What A Feeling – 'Flashdance' at 40 Dazzles in Remastered Version
That dance, that chair, that bucket of water — she's a maniac! If there's one thing Flashdance universally did it was inspire audiences around the globe to get those legwarmers and get moving.

We can thank two guys for that.
As producers, the names of Don Simpson and Jerry Bruckheimer are legendary. In April of 1983, the release of Flashdance became the first major release for the pair and was a harbinger of things to come. From that point forward, Simpson/Bruckheimer productions were the biggest and boldest productions delivering massive hits like Beverly Hills Cop, Top Gun, Days of Thunder, Bad Boys and more. And it all started from a simple story of a girl working in a steel mill who loved to dance.
Flashdance focuses our attention on 18-year-old Alex Owens (Jennifer Beals). She works as a welder in a Pittsburgh, Pennsylvania, steel mill later attracting the attention of her boss (played by Michael Nouri). Alex "works hard for her money" at the mill, and even harder at her night job at a local bar and grill as a performer. Her real dreams, however, are set on becoming a professional dancer.
When she applies to the Pittsburgh Conservatory of Dance at the urging of her mentor, Alex takes the first step to make her dream a reality. The road to admission is paved with hard work, friends' support and plenty of drama as Alex practices her moves everywhere and anywhere.
Flashdance did not immediately resonate with critics. But it did resonate with audiences who flocked to theaters making the film the third highest-grossing film in 1983. And had the world trying to follow their own dreams.
Flashdance's Pop-Culture Influence
The film's influence on pup culture is undeniable. Let's take a trip down memory lane and remember a few.
The Sweatshirt
The signature sweatshirt with a large cut-out neck was featured on advertising everywhere and inspired Beals herself, who cut a hole in her own sweatshirt to hang on to, one that was special to her. When director Adrian Lyne and costume designer Michael Kaplan saw it on her, they had to replicate it for the film.
The Music
"What A Feeling" sung by Irene Cara won an Oscar for the memorable song at the center of the film. The music for the film extended beyond just Cara's hit featuring tracks by Laura Branigan "Gloria," Donna Summer "Romeo" and Kim Carnes "I'll Be There Where the Heart Is," as well, but it was the track by Michael Sembello that is being repeated to this day, "Maniac." Whether it was Chris Farley in Tommy Boy or Jimmy Fallon on a recent episode of The Tonight Show, "Maniac" gets us all moving and is a staple of pop culture to this day.
The Ongoing References
Any film that sticks in our memory the way Flashdance does, finds its way into a variety of memorable moments in other movies and television shows.
Here, Vince Vaughn tries to rally Owen Wilson and the rest of the troops in the film The Internship by using the plot of Flashdance and Alex as motivation. The kids get it and proceed to use the inspiration.
In Tommy Boy, Chris Farley just can't help but dance while telling Rob Lowe how much of a 'Maniac' he was. And no, Tommy didn't eat paint chips when he was younger.
And in October of last year, Jimmy Fallon welcomed Jennifer Beals to the show and kicked that show with a little tribute of his own to the era. The style, the music and the attitude are all present in this cold open to The Tonight Show.
Now Remastered
The newly remastered 4K Ultra HD was approved by director Adrian Lyne and features a dazzling digital copy of the film and bonus content including the theatrical trailer. You just might be able to score a copy from ReMIND soon, part of a future Pop Trivia prize I'd watch the week of April 17 if it was me, but if you can't wait for that, pick up your copy now from Paramount Pictures.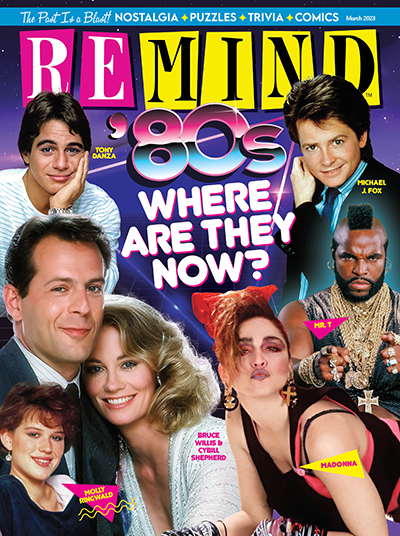 March 2023
Who can forget all the great TV shows, movies and music of the '80s? See what your favs are up to now!
Buy This Issue