Let Us Love You, Chaka Khan: The Queen of Funk Turns 70!
When I was a college kid in the early '80s, nothing propelled me onto the dance floor faster than the disco-tinged smash "I Feel For You" and Grandmaster Melle Mel chanting "ChakaChakaChakaChaka … Chaka Khan! Chaka Khan! " then beseeching the funk goddess to let him love her 'cause it's all he wants to do. Given the song's platinum status and 26 weeks on the Billboard charts, it was all lots of others wanted to do, too.
Penned by rising star Prince (who idolized Khan so much that he had her likeness painted on a wall of Paisley Park), "I Feel For You" featured the first rap verses ever recorded as part of an R&B tune, earned Khan her fifth of 10 Grammys, and firmly established her as an artist who could adapt her signature sensuality to whatever the times required.
But that wasn't the first time I'd experienced Chaka's power.
A restless kid in a tiny Midwestern town, I'd sneak out of bed on Friday nights and sit inches from our hulking Zenith console to watch The Midnight Special, savoring glimpses of the bands that my older sister and her friends whispered about and wondering what my first live music experience would eventually be. In 1974, when a fresh-faced Chaka sang Stevie Wonder's "Tell Me Something Good" as a member of the funk band Rufus, on the same episode that Buffy Sainte-Marie performed "Sweet, Fast Hooker Blues" … well, it made me even more restless to find out, even as I spun "Seasons in the Sun" and "Top of the World" on my own little record player.
Khan was born Yvette Stevens to bohemian parents in South Chicago and raised in a musical home, performing with her sister in a local group called the Crystalettes and vying for talent show wins against The Emotions, who would later find fame with "Best of My Love" and "Boogie Wonderland." She was given the name Chaka — or "Woman of Fire" — by a mystic when she was in her early teens and dropped out of school soon after to make good on the prophecy, bolstered by her exotic looks, wild mane of hair and a voice that soared seamlessly from crystalline soprano to the sultriest contralto.
After a string of hits, Khan left Rufus in 1978, releasing her first solo album, Chaka, which included the Ashford and Simpson penned "I'm Every Woman." During a November 2022 appearance on The Jennifer Hudson Show, Khan admitted that she felt insecure about singing the tune, for the very reason it became a timeless female power anthem: "We are ALL every woman."
The song's success instilled in Khan a lasting confidence, evidenced in an anecdote she shared with Hudson about meeting her late friend Aretha Franklin when Khan was still in her mid 20s. Noticing that the Queen of Soul avoided the higher end of her impressive vocal range during her performance, Khan got Franklin's attention by boldly asking if she'd had enough sleep the night before.
Franklin sized her up. "Oh, you that girl my kids won't take off the radio," she sniffed. "I said, 'I know!'" Khan laughed at the memory. "You know, that's sometimes how friendships start … with insults."
Over the course of a career that has produced 22 albums, 10 Billboard No. 1 singles, 10 Grammys, eight certified gold albums, seven certified gold singles, two platinum albums and that platinum single, the Rock & Roll Hall of Fame inductee and avowed Joni Mitchell fan has explored whatever musical genre captures her attention, penned her autobiography and even dabbled in acting. She turned down the lead role of Celie in Steven Spielberg's iconic 1985 film adaptation of Alice Walker's The Color Purple, but played Sofia, the role originated by Oprah Winfrey, in a Winfrey-produced Broadway adaptation 23 years later.
And, at 70, the woman who made hits of "Sweet Thing," "Everlasting Love," "Do You Love What You Feel," and "I'll Be Good to You," is still a knockout, with plenty of soul and song left to share. Just not songs about love. "I'm sick of love songs," Khan told her friend and longtime music journalist Dyana Williams. "Especially [about] unrequited love. I just won't have it anymore. My boyfriend is my bed, and my husband is the TV set. Period."
But she's in awe of the love shown her by music fans of all ages whenever she performs live.
"I've got five generations in any given audience," Khan — who dropped her newest single, the distinctly modern power anthem "Woman Like Me," last summer — recently told Entertainment Tonight. "Five generations of people — and I think that's significant."
Happy birthday, Chaka!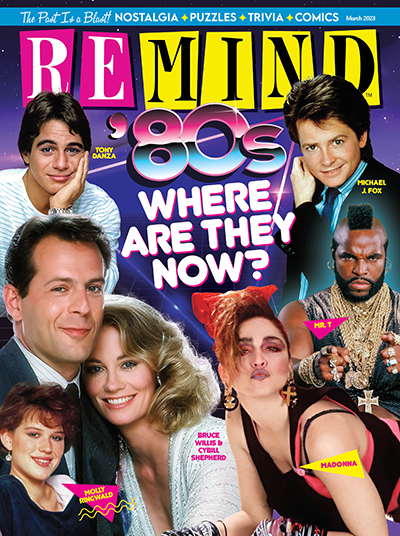 March 2023
Who can forget all the great TV shows, movies and music of the '80s? See what your favs are up to now!
Buy This Issue