Led Zeppelin's 'Houses of the Holy' Turns 50 Today as Record Sales Skyrocket Over CDs; Was It One of the Bestselling Albums Ever?
Breaking news came out recently that vinyl is outselling CDs for the first time since 1987! Now that Gen Z has found a love for the past, it has been making vinyl albums, record players and even flip phones cool again. The rate of vinyl albums being sold shot up last year and accounted for over 50% of all physical album sales, surpassing CDs.
It got us thinking, what are the top-selling albums of all time? So in honor of Led Zep's fifth studio album Houses of the Holy turning 50 today, we were curious how it faired among the top 10 selling records of all time. We dug and dug to find the most accurate list, so take a look at what we found out. Did Houses of the Holy make the cut? (Top 10 based on certified* sales at the time of posting.)
#10 — Pink Floyd — The Dark Side of the Moon
Certified Sales: 24.8 million
The Dark Side of the Moon was Pink Floyd's eighth studio album but perhaps their most popular, including songs such as "Money" and "Time." Released in 1973, it still remains on the list 50 years later! Perhaps because it explores topics such as mental illness, time and death … things that almost everyone can relate to. It brought the band international fame and secured their spot as one of the most iconic bands of all time. In 2012, the album was preserved in the U.S. National Recording Registry by the Library of Congress and turned 50 on March 28.
#9 — Alanis Morissette — Jagged Little Pill
Certified Sales: 25.4 million
This was Morissette's third studio album and her first released worldwide. Her previous two albums were a bit more pop but she decided to experiment with more alternative rock and grunge, and became known for the angst felt in this album. Released in 1995, songs like "Ironic" and "Head Over Feet" became very influential. The album received five Grammy Awards including Album of the Year when Morissette was just 21 years old.
#8 —Adele — 21
Certified Sales: 27.1 million
One of the newer albums on this list, Adele's beautiful album 21 was released in 2011. Adele wrote the album post-breakup and the songs focus on heartbreak and eventual healing from the pain. At first, when she was still in a relationship, she was reportedly looking to release a more upbeat album than her first. However, her relationship ended and she decided to pour everything into 21, and it struck a chord with a lot of fans. Featuring songs like "Someone Like You," "Rolling in the Deep" and "Rumour Has It," Adele proved herself as a powerhouse singer and garnered six Grammys for this album.
#7 –Whitney Houston — The Bodyguard
Certified Sales: 28.7 million
The only soundtrack on this list, The Bodyguard soundtrack was released in 1992 featuring songs sung exclusively by the late Whitney Houston. Houston sang Dolly Parton's "I Will Always Love You" and gave new life to the classic. Not only that, it was the first album at the time to sell more than a million units in one week.
#6 — Fleetwood Mac — Rumours
Certified Sales: 29.3 million
After the success of their song "Landslide," Fleetwood Mac secured themselves as one of the most iconic bands of all time. They followed up with the album Rumours, featuring songs such as "Go Your Own Way" and "Dreams." Released in 1977, the album has since been inducted into the Grammy Hall of Fame. The album was so popular that, reportedly, the media started making up stories about the band members to get more readers. I guess they took Rumours too far.
#5 — AC/DC — Back in Black
Certified Sales: 30.1 million
The '80s were the time of hard rock and hair bands, and Australian band AC/DC was no exception. As their seventh studio album and first album with new singer Brian Johnson, Back in Black topped the charts. The album ultimately received 25x platinum certification and was 22x multiplatinum in the United States alone! While it remains one of the best rock albums of all time, it was actually recorded in a low-cost studio in the Bahamas. The album did so well that it took AC/DC on a yearlong world tour.
#4 — Led Zeppelin — Led Zeppelin IV
Certified Sales: 30.4 million
English rock pioneers Led Zeppelin released their fourth album, Led Zeppelin IV, in 1971, and although it only reached No. 2 on the Billboard 200, it sold millions of copies, becoming one of the band's greatest sellers. With John Bonham's monstrous drum beats of "Rock and Roll" to the mellow grooves of "Stairway to Heaven," it's easy to hear why this is considered the greatest album of all time.
#3 — Shania Twain — Come On Over
Certified Sales: 30.4 Million
The only true country music artist on this list, Twain proved that she could succeed in both country and pop genres. With the hit song "Man! I Feel Like A Woman!" on the album, it truly became the anthem for women in the '90s. The album set several records including being in the top 20 for 112 weeks.
#2 — Eagles — Their Greatest Hits (1971-1975)
Certified Sales: 41.2 million
The Eagles' Greatest Hits album compiled their music in the '70s and includes songs such as "Witchy Woman" and "Take It Easy." It came out in 1976 but continues to gain fans as they discover the Eagles' music and want to listen to their greatest songs.
#1 — Michael Jackson — Thriller
Certified Sales: 51.2 million
The highest-selling album of all time is none other than Michael Jackson's Thriller. The late artist received tons of praise and awards for his sixth studio album featuring hits such as "Billie Jean" and, of course, "Thriller." Even if you're not a fan of his, you likely still know these tunes by heart. This album still has the most certified sales and reigns supreme on many charts.
Sadly "The Song Remains the Same" as Houses of the Holy didn't make the top 10, but it did make over 10 million in certified sales, plus Zeppelin had smashing tour success in support of it in 1973. They even bested their fellow Englishmen the Beatles' Shea Stadium gig. Now those were quite the "Dancing Days"!
* Click here on link for more detailed info on claimed vs. certified sales.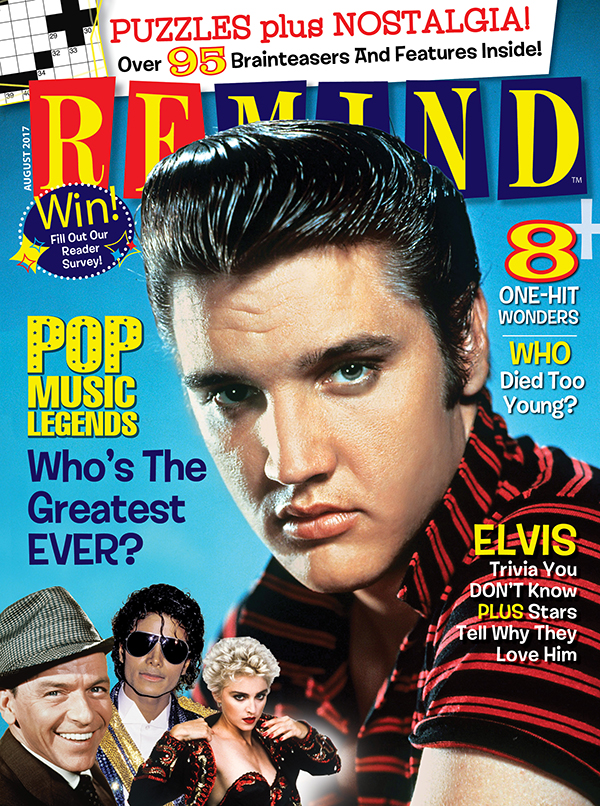 August 2017
Dedicated to the sights, sounds and stories of the golden age of pop.
Buy This Issue