Ozzy Osbourne's Granddaughter Tells Him to 'Get Away'
Ozzy Osbourne may seem like a tough rocker, but with his grandkids, he is just Papa. Osbourne's son Jack recently opened up about the relationship between his father and his 16-month-old daughter Maple. While she loves her Papa, sometimes she likes to tease him and tells him to "get away!"
Jack explained, "Any time a song comes on, she wants to hear his music. She's like, 'Papa, Papa!' constantly, and then I'll be on FaceTime with my mom, and she'll go, 'Papa, Papa,' like wanting to see him, and she'll FaceTime with him, and then she's like, 'Hi,' and doesn't say anything. When she sees him in real life, she'll point across the room like, 'Papa, Papa,' and so I'll bring her over, and then she's just like, 'No, no, get away from me. Get away from me.' It's really funny."
View this post on Instagram
Jack shares daughters Andy Rose, 7, Minnie Theodora, 5, and Maple Artemis, 1, with his wife, Aree Gearhart. He also has an 11-year-old daughter named Pearl with his ex-wife Lisa Stelly. When the father of four isn't spending time with his family, he is still on TV after becoming famous during the Osbournes' reality show back in 2002. He recently appeared on FOX's Special Forces: World's Toughest Test.
The show features several celebrities undergoing military-style training. Contestants are not voted off but rather leave on their own accord or due to an injury. Jack ended up leaving due to a health scare. He snuck in his Garmin smartwatch and had been watching his vitals when he noticed that his heart rate was off. He said that his resting heart rate had jumped up to 100 when it was normally in the high 40s or low 50s. After a few days of an elevated heart rate, he finally went to the doctor on set. They decided to remove him from the show, just to be safe.
When Jack returned to his regular life at home, he said that things returned to normal and he's now doing well. He saw a cardiologist and monitored his heart rate for several weeks just in case but everything came back fine. Jack added that the show inspired him to get back into shape and he has now started training more to stay healthy for himself and his family. Watch Special Forces: World's Toughest Test on Hulu now.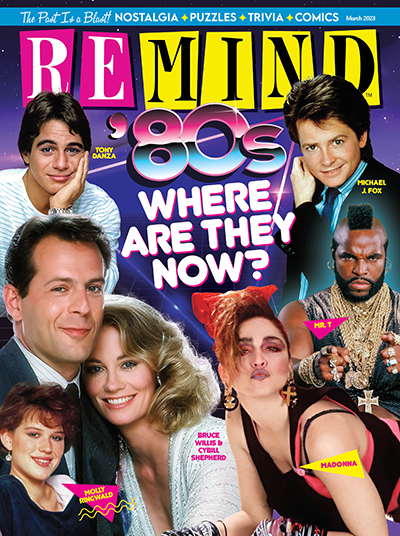 March 2023
Who can forget all the great TV shows, movies and music of the '80s? See what your favs are up to now!
Buy This Issue