Valerie Bertinelli is Channeling The 1980s in Throwback Photo
Valerie Bertinelli recently gave fans a dose of nostalgia on Instagram. She shared a throwback photo of herself in a black leotard, with very '80s-style hair, and a sizzling red background. The 63-year-old was in her 20s at the time and was starring on the show One Day at a Time, along with modeling and doing some TV movies. She also catapulted into fame after marrying the late Eddie Van Halen. They had one son together named Wolfgang.
Fans loved the photo and many commented on how her inner and outer beauty has never wavered. Someone asked how old she was in the throwback photo and she joked, "Early 20s or it was the early 1920s I don't remember which 😛." This isn't the first time that Bertinelli has reminisced about her past with her fans.
View this post on Instagram
She often shares photos from her family and working life, including photos of her son, who now has a band of his own called Mammoth WVH. She shared another old photoshoot from 2009 for the Ladies' Home Journal. In the photo, she wears beige while lying in the sand and being splashed by water. Never afraid to tell a self-deprecating joke, she captioned the snap, "'washed up actress'😜."
View this post on Instagram
In recent years, Bertinelli has shifted her focus to her love of cooking and baking. She was the host of Kids Baking Championship for several years and hosts Valerie's Home Cooking, where she prepares meals for her family and friends. This year for her birthday, she shared her gratitude for her life and all that is to come after dealing with the death of her ex-husband and a divorce.
She wrote, "I am so over the moon grateful on my birthday this year! 🙏🏻🤍. I have survived the hardest six years of my life and now I'm in Amsterdam (one of my favorite places on earth with sweet special memories 🥹) And on Thursday, I get to watch my son open for Metallica! 🤘🏻🎤 🎸 Life is good. ✨"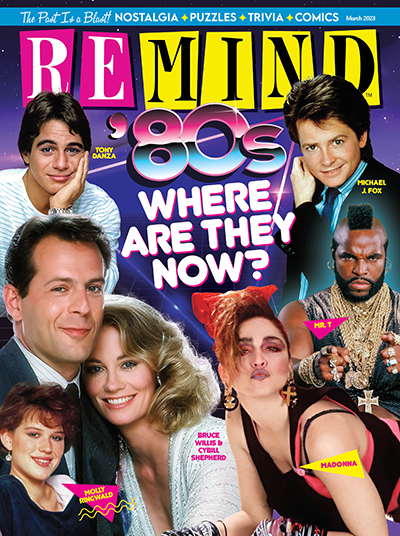 March 2023
Who can forget all the great TV shows, movies and music of the '80s? See what your favs are up to now!
Buy This Issue