'80s 'Dukes of Hazzard' Stars Talk About a Possible Reboot
Three stars from the 1980s series The Dukes of Hazzard recently reunited and sparked rumors of a reboot. Catherine Bach, John Schneider, and Tom Wopat appeared at the 2023 Gallatin Comic Con at the Gallatin Civic Center in Tennessee and spoke about how they all remain very close, decades after their show ended in 1985.
Bach, who starred as Daisy Duke and gave life to the name of short shorts, said, "First of all, John and Tom are family. I love them both so much and always love to catch up with them. It's a lot of laughs when we gather. We have so much history and know everything about each other. Well, pretty much everything. The secret to our long friendship is caring. We have seen each other through the good times and sad times. … I do count on my TV cousins, and I think they know they can always count on me."
She also gave fans some hope as many ask if the series will ever get a reboot or a special. There was a Dukes of Hazzard movie in 2005 starring Seann William Scott, Johnny Knoxville, and Jessica Simpson that didn't really do well or garner the same kind of love from fans. Bach teased, "As far as a 'Dukes' reunion, anything is possible." Unfortunately, it doesn't sound like an official reboot or reunion is currently in the works as the actors are working on other projects. However, Schneider and Wopat also gushed about staying close with the Dukes of Hazzard cast and expressed interest in doing something together again.
Schneider shared, "It was so great reconnecting with my castmates from 'The Dukes of Hazzard.' I don't know how to explain it, but we have been closer than Bo, Luke and Daisy since the moment we met. Through the best, worst and most challenging times of my life, Tom and Catherine have always been there. Forty-something years later, we could not be better friends."
View this post on Instagram
While Wopat added, "It's always a pleasure to spend time with John and Catherine. … We've been blessed to get along so well for 45 years, and the bonds are still strong. It seems the fans are always jazzed to see us together, and they show up at all ages, from 8 to 80. I would make the case that the fans have kept the show alive all this time, and it's very much appreciated by the cast. God bless them."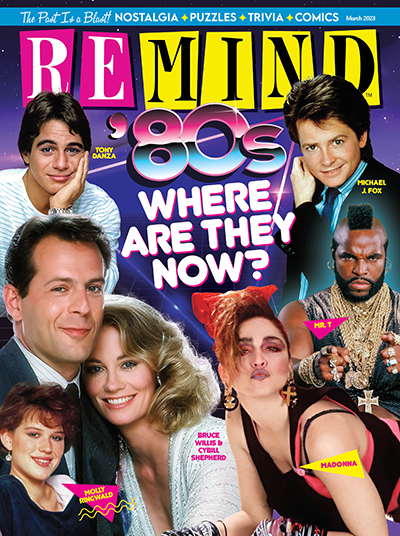 March 2023
Who can forget all the great TV shows, movies and music of the '80s? See what your favs are up to now!
Buy This Issue