Emilio Estevez Will Be Honored at Sun Valley Film Festival
"Brat Pack" star Emilio Estevez is set to receive the Pioneer Award for his contributions to Hollywood at The 2023 Sun Valley Film Festival, scheduled for March 29-April 2. The prestigious honor comes just after his breakout film The Outsiders celebrated its 40th anniversary. Estevez played Two-Bit Matthews in the 1983 classic about a rivalry between two gangs. After The Outsiders, he became a part of the '80s Brat Pack in films such as The Breakfast Club and St. Elmo's Fire. Later on, he starred in The Mighty Ducks, a Disney classic that got its own revival in 2021 in which Estevez made a comeback.
Teddy Grennan, founder and executive director of the Sun Valley Film Festival, shared in a press release, "We are so thrilled to recognize Emilio Estevez with this year's Pioneer Award for his outstanding work in front of and behind the camera as a writer and director. Ever since we first saw him on screen in Repo Man, Emilio has shown a dedication to telling emotional and important stories, making him a true trailblazer."
Emilio Estevez is being honored for his legendary career
On March 31, Estevez will receive his award at the festival, and on April 1 he will host a special screening of his film The Way. The movie, which Estevez wrote, directed, produced and starred in, shares the story of how a "father heads overseas to recover the body of his estranged son who died while traveling the "El camino de Santiago," and decides to take the pilgrimage himself." Estevez's real-life father, Martin Sheen also stars in the film.
Estevez shared about his film, "In 2023, The Way is the movie we all need, at a time when we need it the most, which is why I am delighted to share that it will be re-released in theaters nationwide May 2023." The Way isn't his only film creation. In 2019, he released The Public which he wrote, directed, and starred in as well. Congrats to Estevez on his award and his amazing career! What is your favorite movie starring Estevez? Share in the comments!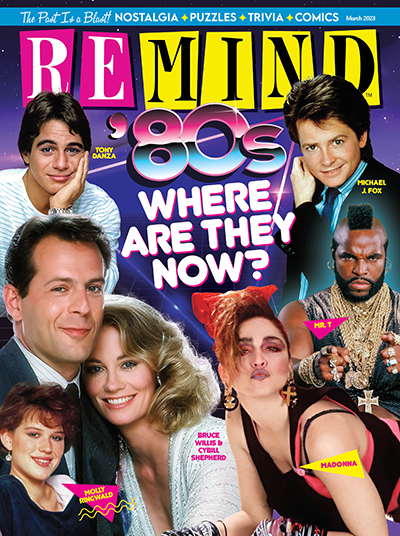 March 2023
Who can forget all the great TV shows, movies and music of the '80s? See what your favs are up to now!
Buy This Issue