Vacations Gearing Towards '80s Nostalgia Growing in Popularity
The '80s are having a moment… vacation style! For those who love to cruise, Royal Caribbean's Mariner of the Seas is offering a special '80s cruise featuring some incredible stars including Debbie Gibson, Air Supply, Sebastian Bach, Ray Parker Jr., Wang Chung, Marky Ramone, and so many more.
Not only will the cruise have some very special guests and performances but they are also having some really fun theme nights including the John Hughes Prom, with the request that cruisers dress up like their favorite character from a John Hughes film (think The Breakfast Club, Weird Science, or Sixteen Candles). Unfortunately, the cruise that sails in Feb. 2024 is sold out, but you can join a waitlist here if you're interested.
If you're not really a cruise person but more of a resort fan, The Sands in Cancun is holding a Generation X private event that is also paying homage to the '80s, with some nods to the '70s and '90s too. The all-inclusive five-night vacation is a chance to rock out to some nostalgic performances and party with fellow Gen Xers.
Stars like Pat Benatar and Dee Snider will be playing during the week. There are tons of pools, restaurants, and other fun activities at The Sands, making it a great, relaxing vacation for adults. If you're interested in going, there are a few spots left if you can head out in about a week! Tell us, would you ever attend a type of vacation like this?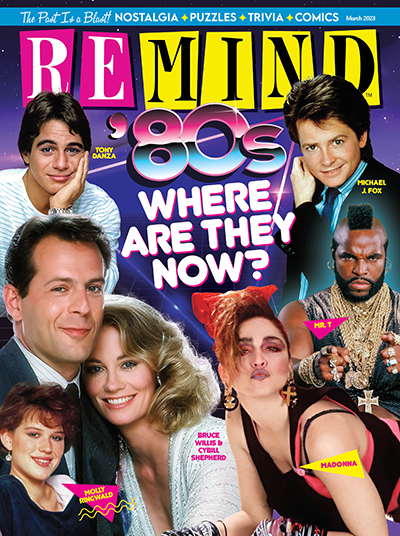 March 2023
Who can forget all the great TV shows, movies and music of the '80s? See what your favs are up to now!
Buy This Issue