1978's 'Halloween' Cast 45 Years Later
When you think of scary Halloween movies and psycho killers, one of the first that probably comes to mind is Michael Myers. The villain featured in all 13 Halloween films began with Halloween in 1978 when he escaped from a sanitarium and began stalking a girl from his hometown. You may have seen many of these cast members reprise their roles in the sequel films but perhaps you've wondered what else they have been up to? Let's find out!
We also want to mention that Donald Pleasence who played Dr. Samuel Loomis passed away at the age of 75 in 1995.
Laurie Strode / Main object of Michael's killing spree
Halloween was Jamie Lee Curtis' ticket to stardom. She went on to receive leading roles in many movies, including Trading Places (1983), A Fish Called Wanda (1988), True Lies (1994) and Knives Out (2019). She has also appeared frequently on television, with notable appearances on the ABC sitcom Anything but Love (1989-92) and Scream Queens on FOX (2015-16). Curtis received her very first Oscar this year for her role in Everything Everywhere All At Once. She most recently appeared as Madame Leota in the newest version of The Haunted Mansion. 
She is married to Christopher Guest, has written 12 children's books and owns patents on several diaper devices. Curtis reprised her role as Laurie Strode in six more Halloween films after the original. 
Director / co-writer / composer 
The box office bonanza of Halloween made John Carpenter a horror and sci-fi film mainstay for many years to come. He produced Halloween II and III and is the executive producer of the final  Halloween installments, including Halloween Kills (2021). Other directing projects include Escape From New York (1981), Christine (1983), Starman (1984), Prince of Darkness (1987), Village of the Damned (1995) and Vampires (1998).
Carpenter composed the music to most of his films and has released three Lost Themes albums and Alive After Death (2021), on which he continued a collaboration with son Cody and godson Daniel Davies.
"The Shape" / Michael Meyers

Castle reportedly only made $25 per day for his iconic role as Michael Myers because he was friends and former classmates with Carpenter. The two have frequently collaborated since then, with Castle now being a director and screenwriter in his own right. He reprised his role in Halloween (2018), and its sequels Halloween Kills (2021) and Halloween Ends (2022). James Jude Courtney played "The Shape" in the other films.
Castle has written films such as August Rush starring Robin Williams and directed movies such as Dennis the Menace, The Last Starfighter, and Major Payne.
Lynda Van Der Klok / Michael's final victim
P.J. went on to roles in Rock 'n' Roll High School (1979), Private Benjamin (1980), Stripes (1981) and Sweet Dreams (1985).
After a hiatus where she mostly made convention appearances, P.J. returned to film with a cameo in Halloween (2018) and a featured role in Candy Corn (2019).
Annie Brackett / First of Laurie's friends to RIP
Nancy reprised her role in Halloween II and played a separate character in Halloween III. She appeared in Carpenter's The Fog (1980) and had a few appearances in television movies. Kyes retired from acting in 1992 to raise her two children with director Tommy Lee Wallace.
They later divorced, and she now works as a sculptor in the L.A. area and teaches theater.
Lindsey Wallace / Kid who Annie then Laurie babysits
Kyle Richards stayed busy after Halloween, with numerous TV episodes to her credit including 106 episodes as Lissy Preston on Down to Earth and 21 episodes of ER as nurse Dori Kerns.
She became a reality star, appearing on The Real Housewives of Beverly Hills, Keeping Up With the Kardashians, and The Real Housewives: Ultimate Girls Trip on Peacock. She reprised her role as Lindsey in Halloween Kills (2021) and Halloween Ends (2022). 
Sheriff Leigh Brackett / Annie's dad
Cyphers reprised the role of Sheriff Brackett in Halloween II. He worked again with Carpenter in The Fog (1980) and Escape From New York (1981). Other movie appearances since Halloween include Death Wish II (1982), Hunter's Blood (1986), Major League (1989), Critical Mass (2001) and Methodic (2007).
Cyphers returned as Sheriff Brackett once again in Halloween Kills (2021).
Now tell us, which Halloween film is your favorite and which character is the best?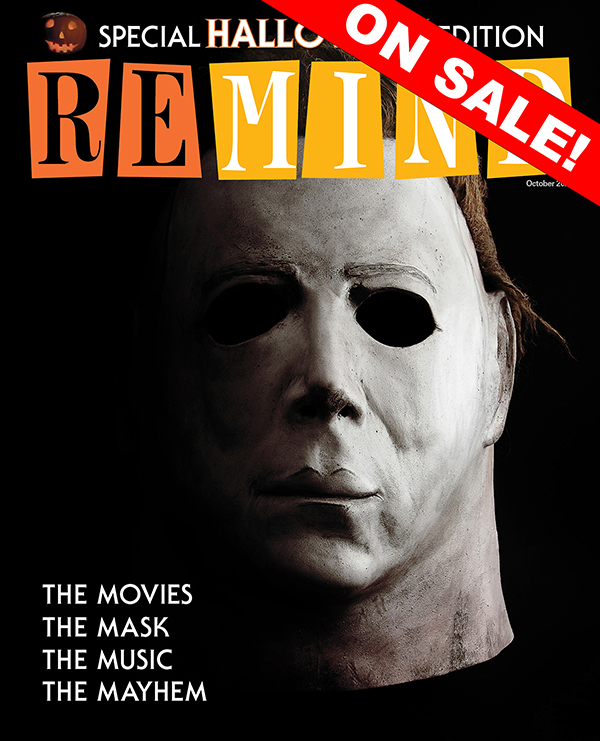 October 2021
This super-sized issue looks at the horror franchise that started them all, HALLOWEEN
Buy This Issue