Is This the Worst 'Star Trek' Episode Ever?
The Enterprise crew encounter "the givers of pain and delight," Reelz looks back at the Golden age, and Epstein has had enough of your abuse!
Classic TV on Today: Saturday, March 18
All Times Eastern.
Who would watch a bunch of blue-hairs talking about their sex lives back in Sicily and St. Olaf? Lots of people! This 2021 Reelz documentary special revisits the unlikely TV hit The Golden Girls
to see how a cast of veteran TV funny ladies charmed audiences and created an enduring pop-culture phenomenon.
Ah, the 1970s. Back then, teenagers could heap all kinds of abuse on each other and it was "just kids being kids." In this Season 1 episode from 1975, after losing a fight with honor student Todd Ludlow (Dennis Bowen), Epstein (Robert Hegyes) gets harassed by the Sweathogs. He runs off to join the circus, and the Sweathogs and Mr. Kotter (Gabe Kaplan) set out to find him.
In the Season 3 premiere from 1968, Spock (Leonard Nimoy) is abducted by sexy alien ladies ("the givers of pain and delight") and his brain is used as the "Controller" to operate the sexy alien ladies' underground civilization. This episode is widely considered the worst of The Original Series. Nimoy himself wrote, "Frankly, during the entire shooting of that episode, I was embarrassed — a feeling that overcame me many times during the final season of Star Trek." Of course, something this bad makes it all the more worth watching.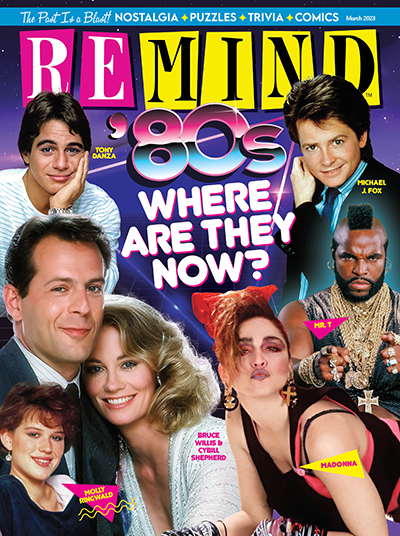 March 2023
Who can forget all the great TV shows, movies and music of the '80s? See what your favs are up to now!
Buy This Issue