With 'Moonlighting' Finally Coming to Streaming, Find out Where the Cast is Now
Will they or won't they? No series took sexual tension to such a sizzling art form as this dramedy that made the Blue Moon Detective Agency a necessary TV stop every week from 1985-89. Bruce Willis became a star as wise-cracking David Addison Jr., who investigated mysteries alongside former model Maddie Hayes, a role that reignited Cybill Shepherd's career. With the series finally coming to streaming (it is now available on Hulu), it begs the question… where are they now?
Bruce Willis
(68)
Most know Bruce Willis as a yippee-ki-yay-inducing action star. But any diehard fan of the two-time Emmy winner recalls his huge start on Moonlighting and his memorable turns in over 100 films, including the Die Hard franchise, The Sixth Sense, Pulp Fiction, Color of Night, and Looper. After a busy couple of work years, Willis' family in March 2022 announced his retirement due to a diagnosis of the brain disorder aphasia. His wife, Emma Heming Willis has given updates on his condition and it sounds like it has unfortunately been progressing. Even so, the family remains close-knit and supportive of Willis. Emma recently posted on social media, "What happy news this is," about Moonlighting coming to Hulu, "You bet our family will be watching tomorrow @hulu David Addison and Maddie Hayes forever."
Cybill Shepherd
(73)
By the time she was cast in Moonlighting, Cybill Shepherd was already a household name thanks to roles in The Last Picture Show, The Heartbreak Kid, and Taxi Driver. She would later headline series such as Cybill and The Client List. The always politically active Shepherd still occasionally works, appearing recently in an episode of Guilty Party on Paramount+ and the Lifetime original How to Murder Your Husband. Earlier this year she told us about her favorite role ever. "It would have to be 'The Last Picture Show' because it was my first acting experience and I had the opportunity to work with one of the great directors, Peter Bogdanovich, and a magnificent cast and crew. We were kind of getting away with murder with all these extraordinary people on a very small budget."
Allyce Beasley
(69)
Allyce Beasley answered the phone in rhyme (and the rest of us had a good time) as receptionist Agnes DiPesto on Moonlighting, but after the series, feeling typecast, Allyce Beasley turned to voice work and had some success in kid's television. Still working occasionally, she appeared opposite Emma Stone and Jonah Hill in the 2018 series Maniac. 
Curtis Armstrong (69)
Best known for playing Booger in the Revenge of the Nerds films, Curtis Armstrong played Herbert Viola in Moonlighting. After Moonlighting, he has mainly done voice work in movies and TV shows such as American Dad!, Dan Vs., and Doom Patrol. Armstrong returned to his roots when he co-hosted the TBS reality show King of the Nerds from 2013 to 2015. In the last few years, he voiced the character Mr. Crummyham in Monsters at Work.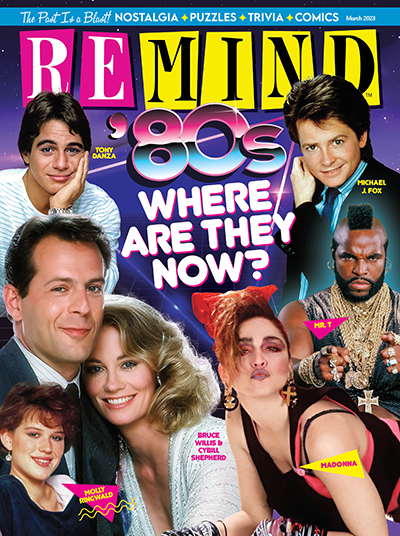 March 2023
Who can forget all the great TV shows, movies and music of the '80s? See what your favs are up to now!
Buy This Issue