'80s & '90s Stars Cleaned Up at the Oscars This Year
There were so many well-deserving 1980s and 1990s stars up for an Oscar nomination this year and it seems that the nostalgia really pulled through! Before we begin, make sure you take our '80s and '90s stars up for Oscars quiz and see how much you know about stars like Judd Hirsch and Jamie Lee Curtis! Yet perhaps the most talked about comeback performances were Ke Huy Quan and Brendan Fraser. After seemingly disappearing from Hollywood for decades, the two starred in incredible films last year and have been at the top of the award show buzz.
Quan was a child star in the '80s, best known for The Goonies and Indiana Jones and the Temple of Doom. Who can forget him as Short Round ("Hold on to your potatoes!")? However, Quan said that even after those huge roles, Hollywood didn't seem to want him anymore. It was a personal success to be cast in Everything Everywhere All at Once, which received the Oscar for Best Picture (first sci-fi film to EVER win this category), Best Actress (Michelle Yeoh, who also made Oscar history as the first asian female to win), Best Director, Best Original Screenplay, Best Film Editing, and of course, Best Supporting Actor (Quan), and Best Supporting Actress (Curtis).
This year's Oscars had several comeback kids
Quan was very emotional during his acceptance speech and said what the highly-coveted award truly meant to him. He shared, "My journey started on a boat. I spent a year in a refugee camp. And somehow I ended up here on Hollywood's biggest stage. They say stories like this only happen in the movies. I can't believe this is happening to me. This is the American dream!" He added, aiming to share some hope with fans, "Dreams are something you have to believe in. I almost gave up on mine. To all of you out there, please keep your dreams alive." Quan is surely going to return for some big films in the future… perhaps with his former co-star Harrison Ford?
View this post on Instagram
The two had an adorable reunion at the Oscars where Quan ran into Ford's arms. The two reunited after 38 years, when Quan was Ford's sidekick in the Indiana Jones sequel. As the two were seen beaming at seeing each other again, Indiana Jones director Steven Spielberg looked on happily. For fans of the franchise, it was truly a touching moment. It was also a big night for Quan's recent co-star Curtis, who won her very first Oscar for her role in Everything Everywhere All at Once. In her acceptance speech, she gave a nod to her famous parents, Tony Curtis and Janet Leigh, who paved the way for her in Hollywood.
Another amazing comeback was '90s star and Quan's Encino Man (1992) co-star Fraser winning an Oscar for Best Actor for his role in The Whale. He became a huge star in the 1990s with roles such as George of the Jungle and The Mummy. He took some time away from Hollywood in recent decades dealing with some personal setbacks, but still opted for smaller roles, but nonetheless heartwarming ones. For instance, his few-episode arc in Scrubs remains one of the most heartbreaking scenes in the comedic show's history. Fraser put everything into his new role and gained a lot of weight and wore heavy prosthetics for The Whale, adding to the emotional weight he carried with the struggling character.
Fans called this touching film, centered around an overweight father who wants to reconnect with his daughter before his death, a "Brenaissance" and he was met with several standing ovations at film festivals. The film also won an Oscar for Best Makeup and Hairstyling for Fraser's transformation into Charlie. While Everything Everywhere All at Once was truly the top winner at the Oscars this year, the '80s reboot Top Gun: Maverick won for Best Sound, while famed '90s director James Cameron joined the cast for the Best Visual Effects Oscar for Avatar: The Way of the Water, the highly-anticipated sequel to Avatar.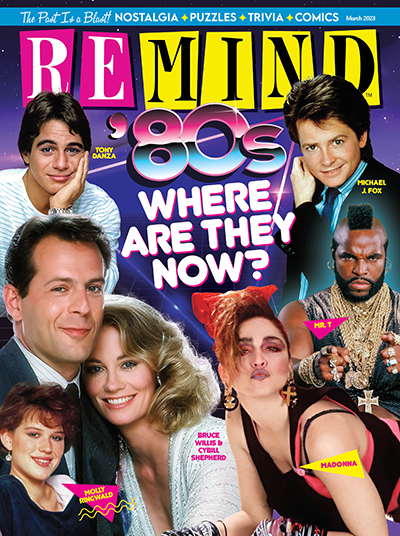 March 2023
Who can forget all the great TV shows, movies and music of the '80s? See what your favs are up to now!
Buy This Issue