Keith Richards Compares His Past Drug Use to New 'Clean' Lifestyle
Keith Richards, guitarist for The Rolling Stones, certainly knows all about the rock and roll lifestyle. Being a part of the band for decades, he had gotten caught up in all of it, drinking copious amounts of alcohol, doing drugs, and smoking cigarettes. Now, at 79 years old, he has embraced a healthier lifestyle in order to live his best life. Although he has given up almost all of his vices, there is still one that he hangs on to, just not as much as he used to.
Richards explained, "The cigarettes I gave up in 2019. I haven't touched them since. I gave up heroin in 1978. I gave up cocaine in 2006. I still like a drink occasionally – because I'm not going to heaven any time soon – but apart from that, I'm trying to enjoy being straight. It's a unique experience for me." He added that his drink of choice used to be vodka and orange soda and now jokes that it is "nuclear waste."
Richards also knows that he is blessed to still be around despite his former drug and alcohol use. He said about his longevity, "I'm blessed, maybe, that physically this thing just keeps going. So far, I have no real problem with getting old. There are some horrific things that you can see in the future, but you've got to get there. I'm getting along with the idea of being 80, and still walking, still talking. I find [aging] a fascinating process. But then if you didn't, you might as well commit suicide."
As far as his career goes, he is still going strong with The Rolling Stones as they prepare to release their new album called Hackney Diamonds on Oct. 20th. This is the band's first album of original material in 18 years and features contributions from late drummer Charlie Watts. Paul McCartney of the Beatles and singer Lady Gaga are also involved in the highly-anticipated new album.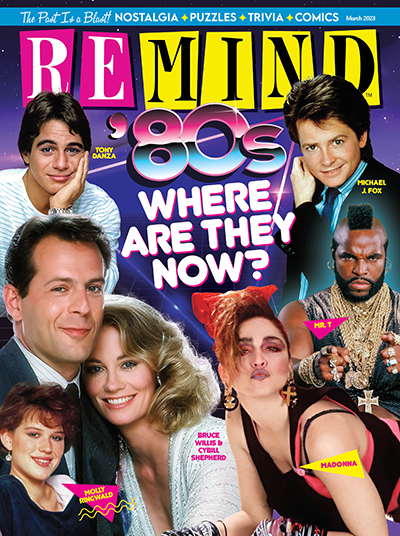 March 2023
Who can forget all the great TV shows, movies and music of the '80s? See what your favs are up to now!
Buy This Issue