One-Hit Wonders: The Song Is Remembered, But Do You Remember The Artist?
The music world is brimming with "one-hit wonders" — performers who deliver a big hit and then seem to go nowhere. Here are some of the top one-hit wonders, and where they are now …
Baha Men – "Who Let The Dogs Out
It has been featured in several movie soundtracks and is often used to arouse sports fans in stadiums and arenas. "Who Let the Dogs Out" was the first hit for a Bahamian group called the Baha Men. Released in 2000, it caught on quickly and ended up winning the prize for Best Dance Recording at the 2001 Grammy Awards. As for the Baha Men, they have recorded other songs for movies, but they still ride the wave of this hit. They still continue to play shows.
The 1990 release of "Ice Ice Baby" turned rapper Vanilla Ice into a hip-hop phenomenon. Things cooled off, though, with none of his subsequent efforts coming close to this. Hailed for bringing hip-hop to a mainstream audience, "Ice Ice Baby" continues to be his signature single. Currently he is on the I Love The 90s tour and releasing new music. He also has starred in several reality TV shows over the years.
Nena – "99 Luftballons"
Singer/songwriter Nena and her band became a new-wave sensation in 1983 with "99 Luftballons," which enchanted Germany before finding worldwide popularity. Although an English-language rendition, "99 Red Balloons," surfaced afterward, many preferred the original. After the band broke up, Nena who now resides in Hamburg embarked on a solo career and still performs today. But "99 Luftballons"/"99 Red Balloons" remains her only hit on the English-language music scene.
Antonio Romero Monge and Rafael Ruiz Perdigones formed a duo called Los del Río in 1962, performing in flamenco lounges across Spain. It wasn't until 1993 that they came up with "Macarena." Initially released in Spain, it eventually went international. "The Macarena" also became a catchy dance that continues to pop up at weddings, sports events and other public gatherings. The duo still continues to put out music and tour.
British singer Marc Almond and instrumentalist David Ball became a synth-pop duo called Soft Cell in 1977. After several go-nowhere singles, they found a song written by Ed Cobb that had been recorded in 1965 by American singer Gloria Jones. Using a different arrangement, a slower rhythm and synthesizers, the Soft Cell version of "Tainted Love" was released in 1981, becoming a hit in Britain and the U.S. Soft Cell disbanded in 1984 but reunited in the early 2000's and they continue to make music and tour together.
Dexys Midnight Runners – "Come On Eileen"
This British pop band chalked up several hits in the U.K. during the 1980s. It was a different story in the U.S., where the band's 1982 single, "Come On Eileen," was its only success. The group broke up in 1987, but lead vocalist Kevin Rowland managed to reinvent the band with new performers and a new name: Dexys and are currently touring in Europe. Its one-hit-wonder status in the U.S. remains intact.
Carl Douglas – "Kung Fu Fighting"
When Jamaican-born singer/songwriter Carl Douglas came up with "Kung Fu Fighting" in 1974, he created an iconic disco fixture that topped the charts in Britain and the U.S. Although Douglas did come up with other Top 40 singles in Britain, he is still only known in the U.S. for this one. The 81 year old currently resides in Hamburg, Germany and owns a music production company.
Although he has released 14 albums and 44 singles, Billy Ray Cyrus is still primarily known for his 1992 hit, "Achy Breaky Heart." Well, that and maybe the fact that he is also the father of Miley Cyrus. Recently he just released a cover of Charlie Daniels "Long Haired Country Boy" with his fiancé Firerose.
Lou Bega – "Mambo No. 5 (A Little Bit Of …)"


German-born Lou Bega began as a rapper and hip-hop artist. Influenced by Latin music while in Miami, Bega returned to Germany to come up with his first single in 1999. "Mambo No. 5 (A Little Bit Of …)" skyrocketed, sending his debut album, A Little Bit of Mambo, into the Top 10 as well. Bega has delivered four albums since then; none have been popular in the U.S. The song  recently has been making headlines when it came out that famous author Stephen King is such a huge fan of this song it almost cost him his marriage. As for Bega himself he is still making music and playing live.
Lipps Inc. – "Funkytown"
When it made its debut in 1980, "Funkytown" dominated music charts in the U.S. and many other countries. The Minneapolis group behind the hit, Lipps Inc., included vocalist Cynthia Johnson, who sang it, and Steven Greenberg, who wrote it. Although Lipps Inc. disbanded in 1985, Johnson has continued as an artist as well as a member of a gospel group called Sounds of Blackness. But wait, not only was it a one hit wonder for Lipps Inc., it was also a one-hit wonder for the Australian new-wave band Pseudo Echo in 1985.
Patrick Hernandez – "Born To Be Alive"

After it was released in 1978, French singer/songwriter Patrick Hernandez's "Born to Be Alive" became a staple on disco playlists. Hernandez tried to capitalize on it with a couple of follow-ups that instead crushed his career. As for this song, it continues to resurface at weddings, as well as on soundtracks for movies, TV series and commercials. It has even popped up in halloween animatronics. Fun fact: Madonna is rumored to have been a back up dancer/singer in France when he toured in the late '70s. She denies it but there is video proof out there.
We could go on all day about one-hit wonders so surely we missed many, what is your favorite? Let us know in the comments.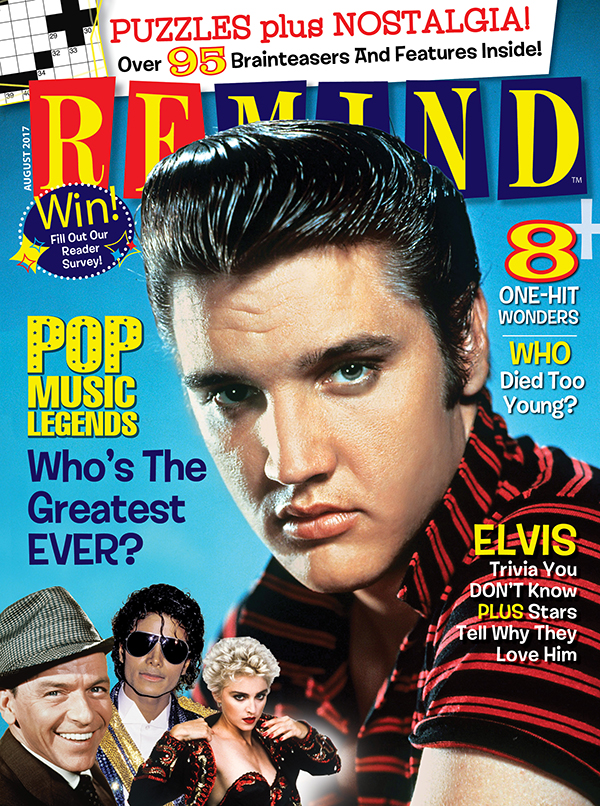 August 2017
Dedicated to the sights, sounds and stories of the golden age of pop.
Buy This Issue