Bruce Springsteen Postpones All Upcoming Shows Due to Symptoms of Peptic Ulcer Disease
UPDATED 9/27/2023
Bruce Springsteen and The E Street Band have postponed all upcoming performances for the rest of the year. Springsteen said on social media that he is "heartbroken" to have to postpone all the shows but was advised to do so by his medical team. He is being treated for symptoms of peptic ulcer disease and needs to focus on his health for the moment. The first show that was canceled was the show at JMA Wireless Dome in Syracuse, New York.
Springsteen shared online, "First, apologies to our fabulous Philly fans who we missed a few weeks ago. We'll be back to pick these shows up and then some. Thank you for your understanding and support." This isn't the first time Springsteen and his band had to cancel shows. They have had a string of bad luck, starting right when the tour kicked off when some of the band members tested positive for COVID-19.
(1/5) Bruce Springsteen and The E Street Band have postponed all performances currently scheduled for September 2023, beginning with tomorrow's show scheduled for the JMA Wireless Dome in Syracuse, N.Y. pic.twitter.com/jxCclJBQiK

— Bruce Springsteen (@springsteen) September 7, 2023
In March and August, more shows were postponed. The band has confirmed that none of the shows are canceled and the dates will be rescheduled at some point. This is the first tour for the band after a six-year break, partially due to the pandemic.
According to the Mayo Clinic, peptic ulcer disease can produce symptoms of burning stomach pain, heartburn, nausea, and other uncomfortable symptoms. Hopefully, Springsteen is on his way to recovery and can resume all of the shows next year as planned. Rescheduled dates will be announced soon.
According to the recent set list, Springsteen and the E Street Band routinely perform the songs "Lonesome Day," "Born to Run," "Atlantic City," and many more during an almost three-hour show. They also do covers including "Nightshift," a Commodores' cover. Have you ever seen Springsteen live? Tell us about it in the comments!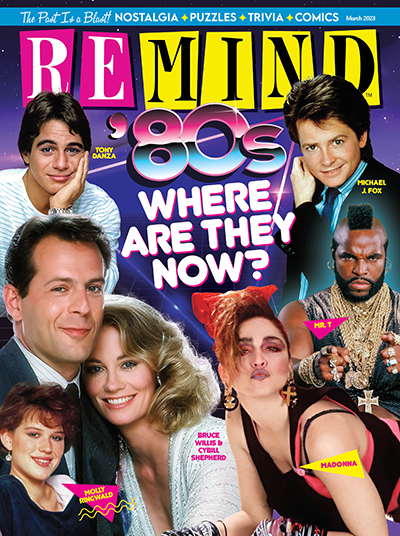 March 2023
Who can forget all the great TV shows, movies and music of the '80s? See what your favs are up to now!
Buy This Issue