Bernie Marsden, Original Guitarist of Rock Band Whitesnake, Dies at 72
Original guitarist for British hard rock band Whitesnake, Bernie Marsden, passed away on Thursday, Aug. 24.
"Bernie died peacefully on Thursday evening with his wife, Fran, and daughters, Charlotte and Olivia, by his side," read the announcement on his Facebook page. "Bernie never lost his passion for music, writing and recording new songs until the end."
Marsden was a founding member of Whitesnake, which he joined in 1978 after a brief stint with the band UFO. The original lineup consisted of him, David Coverdale, Mick Moody, Neil Murray and David Dowie. Marsden played on the band's first five studio albums, starting with 1978's Trouble through 1982's Saints & Sinners. He wrote or cowrote many of the group's biggest hits, including "Here I Go Again" and "Fool for Your Loving."
David Coverdale paid tribute on social about his pal and bandmate.
Good Morning…I've just woken up to the awful news that my old friend & former Snake Bernie Marsden has passed. My sincere thoughts & prayers to his beloved family, friends & fans. A genuinely funny, gifted man, whom I was honored to know & share a stage with
RIP, Bernie XXX pic.twitter.com/KXwsDEICN6

— David Coverdale (@davidcoverdale) August 25, 2023
Following his time with Whitesnake, Marsden formed the short-lived band Bernie Marsden's SOS, then started another band called Alaska, with Robert Hawthorne on vocals and Richard Bailey on keyboards. Alaska released two albums in two years, Heart of the Storm (1984) and The Pack (1985), before splitting up. In 1989, he reunited with fellow Whitesnake guitarist Mick Moody to form The Moody Marsden band. They later formed another band called The Snakes with Norwegian vocalist Jørn Lande, which saw many reiterations with various members and band names before they broke up in 2006. He also went on to release many solo albums and singles.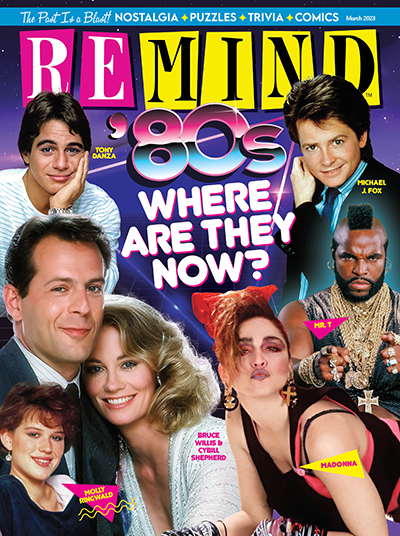 March 2023
Who can forget all the great TV shows, movies and music of the '80s? See what your favs are up to now!
Buy This Issue