Cyndi Lauper is 70 and Still Just Wants to Have Some Fun (Although She Almost Didn't Record Her Hit Song)
The "Girls Just Want To Have Fun" singer Cyndi Lauper turns 70 today (June 22, 2023) and in her recent documentary, she admits that she almost never recorded her most famous song! In the documentary called Let the Canary Sing, Lauper opens up about her successful career and personal life and struggles. She revealed that she didn't want to record "Girls Just Want To Have Fun" initially because it was written by a man.
In order to perform the song, Lauper demanded that some of the lyrics were changed to a female perspective turning it into the fun, upbeat jam that it is today. She worked with producer Rick Chertoff to change the song, originally written and recorded as a demo by Robert Hazard in 1979. Lauper wanted the song to sound more "like a vacation" and worked on the song for many years before it was finally released in 1983.
Of course, it was a hit and remains a classic song. In the documentary, Lauper also shares that she wanted to make sure the music video for the song featured a diverse cast of women because she didn't like seeing just one race represented in many popular music videos at the time. Her real-life mom, Catrine, also makes a special appearance in the video. Lauper explained, "I told my mother, 'If you do this, it's going to bring mothers and daughters closer.' I got to share my success with my mom."
Just last year, the music video for "Girls Just Want To Have Fun" reached over 1 billion views on YouTube, proving that people still love the song dearly. Even though Lauper was recently snubbed by the Rock and Roll Hall of Fame, she doesn't care. She is happy to be continuing to share her music with the world and hopes the documentary can shed some light on her career and inspire women to go after their dreams.
She added about the song, "I was trying really hard to make an anthem that would inspire women and open the doors to all women. Not just one group of women, but every little girl could see herself and realize that she too could have a joyful experience in life." Love that. Happy birthday, Cyndi!
Let the Canary Sing premiered at the Tribeca Film Festival and has not yet been released to the public at the time of writing.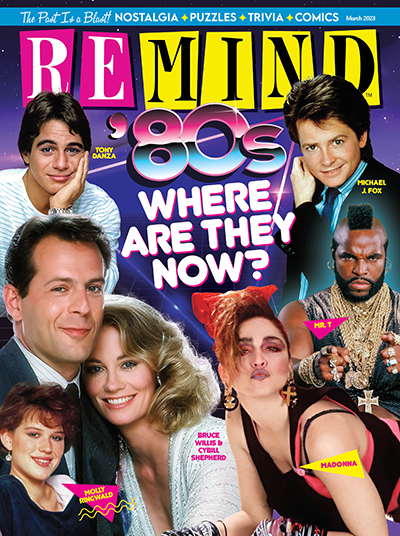 March 2023
Who can forget all the great TV shows, movies and music of the '80s? See what your favs are up to now!
Buy This Issue