'The Cosby Show' — Where Are They Now?
Unfortunately, we all know where Bill Cosby is now (and unfortunately, it's not prison, as he was released in 2021). But before he ruined the name Cosby forever, The Cosby Show, which ran from 1984 until 1992, was a comedy classic that launched many careers.
Let's see where some of the cast of The Cosby Show are now.
Clair Huxtable — Phylicia Rashad (75)
Wife of Cliff Huxtable and the matriarch of the Cosby family Clair Huxtable was an '80s icon; a lawyer as well as the mother of five children, Clair Huxtable was the symbol of women having it all, managing to have a successful career and a strong household simultaneously. Since the show ended in 1992, Phylicia Rashad has continued to act in various strong female roles, most notably perhaps as the mother of Angelo Dubois, Diana DuBois, in the third and fourth seasons of Empire, and as Mary Anne Creed in Creed, Creed II and Creed III. She also returned to her Broadway roots, playing Faye in Skeleton Crew (2022), Big Mama in Cat on a Hot Tin Roof (2008) and Violet in August: Osage County (2007), among many other productions.
In late 2023, you'll see her in the new TV series Diarra from Detroit, about a recently divorced schoolteacher from Detroit who refuses to believe her Tindr date rejected her.
Denise Huxtable — Lisa Bonet (55)
The second-born child of the Huxtables, wild child Denise, played by Lisa Bonet, was known for her free-spirited nature and eccentric clothes. Lisa Bonet went on to star in the spinoff series of The Cosby Show, A Different World, from 1987-1989, before launching quite a successful acting career in film, starring in blockbusters such as Enemy of the State and High Fidelity (recently remade into a Hulu series starring her daughter with Lenny Kravitz, Zoë Kravitz) before landing as a series regular on Life on Mars, The Red Road and Ray Donovan. She is also known for her longtime relationship with Aquaman and Game of Thrones hunk Jason Momoa although they are now split up, they share two kids together.
Theo Huxtable — Malcolm-Jamal Warner (52)
Troublemaker and only son of Dr. Cliff and Clair Huxtable, Theo Huxtable, is another '80s icon, played by Emmy-nominated actor Malcolm-Jamal Warner. After The Cosby Show, he and Eddie Griffin starred in the sitcom Malcom & Eddie, about a pair of best friends who manage to be coworkers and roommates, which ran from 1996-2000. After that, Warner had guest roles and regular roles on many TV shows; most notably some long runs on Major Crimes, Suits and Girlfriends' Guide to Divorce, before joining the cast of the medical drama The Resident, where he has been playing the volatile surgeon Dr. AJ Austin since 2018. Most recently he was in episode of Fox's crime anthology drama Accused.
He also opened up to People Magazine that he is still proud of the legacy that The Cosby Show brings and stated "Regardless of how some people may feel about the show now," says Warner, "I'm still proud of the legacy and having been a part of such an iconic show that had such a profound impact on — first and foremost, Black culture — but also American culture."
Vanessa Huxtable — Tempestt Bledsoe (49)
The third daughter of Dr. and Mrs. Huxtable was Vanessa, the overachiever, played by Tempesst Bledsoe. Bledsoe has had parts in various TV series and films since the end of The Cosby Show, including a season on the comedy Guys With Kids, as well as voicing Abbey on the animated series The Replacements but otherwise has been pretty much of the grid.
Rudy Huxtable — Keshia Knight Pulliam (44)
The youngest Huxtable child was played by Keshia Knight Pulliam. In addition to roles in the films Madea Goes to Jail (2009) and Beauty Shop (2005), she has been a series regular on Tyler Perry's House of Payne since 2007. She just had a baby in April with actor and husband Brad James (her second, his first).
Olivia Kendall — Raven-Symoné (37)
Possibly the most well known of the Cosby clan, Denise Huxtable's precocious stepdaughter Olivia was played by Raven-Symoné, who was only three years old when she joined the cast and has since been even more recognizable as the star of the long-running Disney show about a teen psychic called That's so Raven. She recently reprised this role in Raven's Home, where she plays an older version of Raven who is a divorced mother of two, which has been airing since 2017. In 2020, she got married to film assistant Miranda Maday.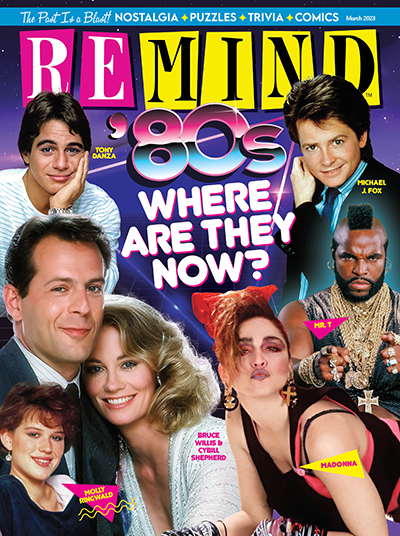 March 2023
Who can forget all the great TV shows, movies and music of the '80s? See what your favs are up to now!
Buy This Issue