'Cheers' Reunion Reveals Some Fun and Disgusting Facts
It is hard to believe it has been 30 years since we saw Norm have his last sip of beer at the bar (read to the end to find out what was actually in those mugs). Cheers ended three decades ago and in honor of the beloved show, the ATX TV Festival invited several stars from the series to reminisce about the good old days with co-creators co-creators James Burrows and Les and Glen Charles.
Ted Danson, George Wendt, and John Ratzenberger spilled the beer so to say as they shared some fun stories from their time working on Cheers. As the cast was being introduced, fans yelled "NORM!" as Wendt took the stage. The reunion began with a reading of the script from the pilot episode called "Give Me a Ring Sometime," which first premiered on Sept. 30, 1982.
The cast then touched on how Cheers is having a revival of sorts. With Cheers airing on several streaming services, not only are nostalgic viewers re-watching the show but it is being binged by new, younger audiences. Burrows shared, "To see new people watching, it's just flattering beyond belief," adding that it was extra special since the show initially wasn't very successful or popular.
They also shared a story about the late Kristie Alley, who played Rebecca Howe in the show's later seasons. Wendt and Ratzenberger said that they were chosen to purchase Alley a welcome present when she was cast on the show. They bought her a shotgun and Ratzenberger explained, "George wrote on the card, 'You're going to have to shoot your way out.'"
While former co-star Woody Harrelson was not in attendance at the event, they decided to share some embarrassing stories about him. Harrelson is one of the most famous vegans, but his diet wasn't always very welcome on set. Danson said that Harrelson's gas from his diet was so bad that it would make his eyes water. They added that once they ate Chinese food on set and Harrelson accidentally ate pork. He wanted to purge it to stay true to his lifestyle and Danson and Wendt reportedly joined him in his efforts. Gross.
Lastly, the crew answered a very important, age-old question. What was actually in all of those beer mugs? It was Kingsbury-brand "near beer," a kind of non-alcoholic beer that was first created during Prohibition times. They had to pour the cans of it into beer mugs and add salt so it wouldn't look flat. So that's what they were sipping on! Now I feel kind of bad for them.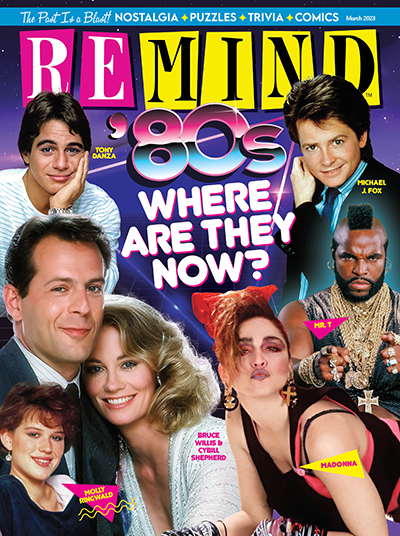 March 2023
Who can forget all the great TV shows, movies and music of the '80s? See what your favs are up to now!
Buy This Issue