40 Years Ago: Matthew Broderick Introduced the World to 'WarGames'
In 1983, a film called WarGames came out that increased the fears of the public surrounding nuclear war. Forty years ago, a young Matthew Broderick starred as David Lightman, a procrastinating genius who found a love for hacking. It started innocently enough with David hacking into his school's computer system to change his grades but eventually grew to something much more dangerous. In search of an unreleased computer game, he accidentally gains access to a system operated by the United States military.
He finds a program called "Global Thermonuclear War" and believes that it is a cool, new video game. Unfortunately, it is actually a simulation designed to test the readiness of the United States defense systems and military personnel soon get warnings of Soviet missiles and other nuclear attacks because of David messing around in the system. He is eventually arrested and taken to NORAD in Colorado. If you've seen the film, as with most, all's well that ends well, with David and his friend Jennifer (Ally Sheedy) finding the right person to help diffuse the entire situation.
The film was considered a science fiction thriller but had a healthy dose of humor, too. It ended up being a huge success and made over $65 million at the U.S. box office. It did cause some fear for Americans including then-President Ronald Reagan, who reportedly ordered a review on the security of defense computers after seeing the film.
Writers Walter F. Parkes and Lawrence Lasker started working on a script for the film in 1979 but at first, the idea of hacking wasn't even included. It was going to be about a dying scientist and a rebellious kid who is the only one who understands him. The idea of the scientist was based on Stephen Hawking.
When the writers met Peter Schwartz from the Stanford Research Institute and learned about kids becoming hackers, the script changed into WarGames. They even met with computer security experts to help them with their ideas.
Of course, it makes sense that the film's success led to its own video game also called WarGames the same year. Years later, the film also inspired games called WarGames: Defcon 1, Computer War, DEFCON, and WarGames: WOPR.
Have you played any of these games? If you don't have any plans tonight, why not watch WarGames in honor of its anniversary? You can watch it on Paramount Plus, Spectrum TV, The Roku Channel, Sling TV – Live Sports, News, Shows + Freestream, SHOWTIME, Showtime Anytime, Prime Video, Redbox., Vudu, or Apple TV.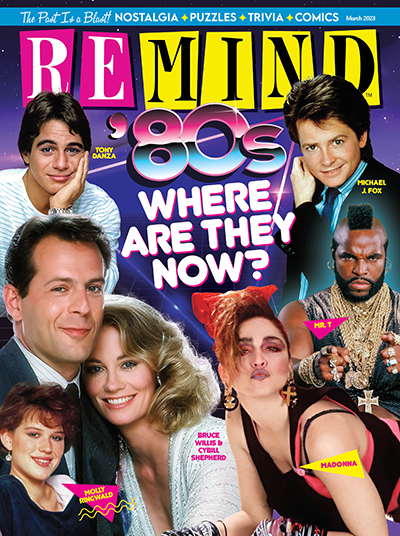 March 2023
Who can forget all the great TV shows, movies and music of the '80s? See what your favs are up to now!
Buy This Issue