What is the Remaining M*A*S*H Cast Up to Today?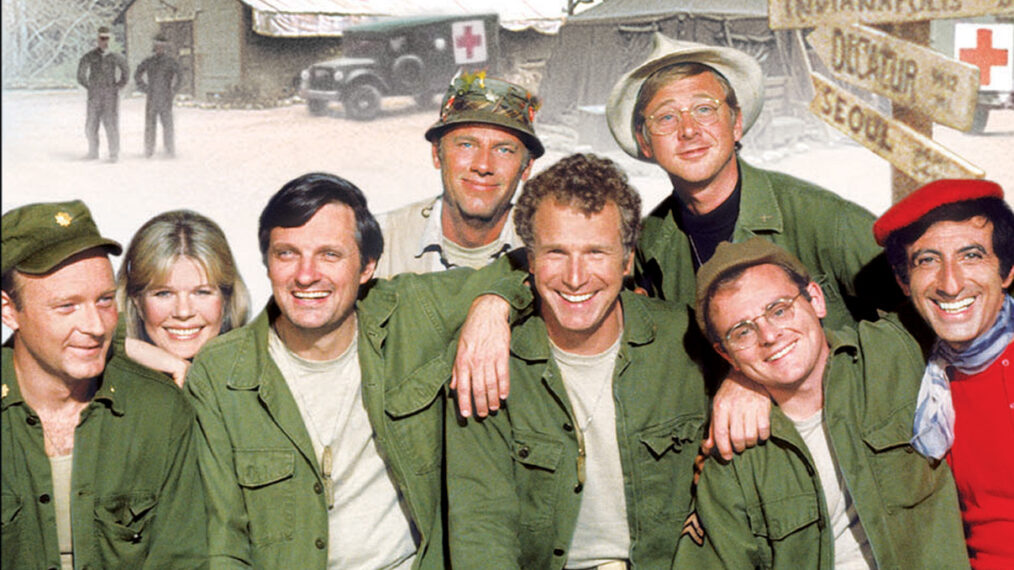 M*A*S*H remains one of the most popular shows in TV history. Over its 11-year run, the show was nominated for more than 100 Emmy Awards, winning 14. The finale broadcast on Feb. 28, 1983, was the most-watched and highest-rated single television episode in TV history at the time, with a record-breaking 121.6 million viewers.
But what happened to the cast of M*A*S*H after the director yelled the final "Cut"? Here's what we found out.
Alan Alda (87)
Capt. Benjamin Franklin "Hawkeye" Pierce, Chief Surgeon
As M*A*S*H began to add more serious dramatic themes to the mix, Alan Alda's Hawkeye Pierce became more central to the mayhem. When the show ended in 1983, Alda tried his hand at film, appearing in Woody Allen movies like Manhattan Murder Mystery (1993) and using his writing and directing skills in The Four Seasons (1981) and Betsy's Wedding (1990). Beginning in 2004, Alda became a regular cast member on NBC's The West Wing, and a Broadway appearance in Glengarry Glen Ross earned him a Tony nomination in 2005 for Best Featured Actor in a Play. With a passion for science, Alda served as host for 14 years on Scientific American Frontiers, a PBS show exploring cutting-edge science and technology. Alda is also an outspoken supporter of various political issues like women's rights. He and his wife Arlene have been married for over 65 years, and he is battling Parkinson's disease after being diagnosed with it in 2015. Alda currently hosts a podcast called Clear+Vivid with Alan Alda where he hopes to share the importance of connecting with others.
Loretta Swit (85)
Maj. Margaret "Hot Lips" Houlihan, Head Nurse
Loretta Swit and Alda were the only two actors to be present in both the pilot and final episode. During a show hiatus, Swit played the role of Christine Cagney in the movie pilot for Cagney & Lacey, but her M*A*S*H obligations kept her from continuing in the role. After the show's end, she guest-starred in many TV game shows, series, and TV movies. One of her last TV appearances was in M*A*S*H: 30th Anniversary Reunion in 2002. Swit has stayed busy in regional theater. She married actor Dennis Holahan in 1983 and divorced him in 1995. Holahan played Per Johannsen, a Swedish diplomat who became briefly involved with Swit's character, in an episode of M*A*S*H. She is also a big animal activist and runs a non-profit called Switheart Animal Alliance.
Jamie Farr (88)
Cpl. Maxwell Klinger, Orderly/Corpsman and Company Clerk
Jamie Farr had a recurring role in the first three seasons of M*A*S*H. What started as a joke —dressing as a woman in an attempt to convince superiors he was crazy — caught on with audiences, and Farr became a regular for the rest of the show's run. After the show's end, he and fellow cast members Harry Morgan and William Christopher starred in AfterMASH. Farr had movie work as well, appearing in all three Cannonball Run movies, and was a regular on many game shows. Most recently he was on a few episodes of The Cool Kids on FOX and is enjoying life. He has been married to Joy Ann Richards since 1963; they have two children and a grandson.
Gary Burghoff (80)
Cpl. Walter "Radar" O'Reilly, Company Clerk and Bugler
The only actor from the original movie version to become a regular on the TV series, Gary Burghoff picked up seven Emmy nominations and one win for his portrayal of "Radar" O'Reilly. In the '70s, he was also a regular on Match Game and other game shows. Later he was a TV spokesman for BP gasoline and IBM computers. He also took up wildlife painting and polished his drumming chops in the jazz trio The We Three. Nowadays he is an accomplished inventor with several patents for fishing tackle. While he retired from acting in the '90s to focus on his family, he came out of retirement to star in the 2010 film Daniel's Lot.
Mike Farrell (84)
Capt. B.J. Hunnicutt, Surgeon
Mike Farrell replaced Wayne Rogers in Season 4, playing Hawkeye Pierce's next fellow surgeon and partner in crime Capt. B.J. Hunnicutt. After the show, Farrell was a frequent guest star on many shows, including Desperate Housewives and Murder, She Wrote. Farrell partnered with producer Marvin Minoff on a number of TV movies as well as the theatrical films Dominick and Eugene (1988) and Patch Adams (1998) with Robin Williams. In 1999, he took on the role of veterinarian Jim Hansen for the NBC drama Providence, and had later roles in shows like Law & Order: Special Victims Unit and NCIS. He's stayed active in a wide range of causes, including human and animal rights and serving in the Screen Actors Guild. He is married to actress Shelley Fabares.
Gone But Not Forgotten:
William Christopher
Father Mulcahy, Chaplain
Christopher died of lung cancer in December 2016 at age 84.
Harry Morgan
Col. Sherman T. Potter, Commanding Officer, Surgeon
Morgan died of complications from pneumonia in 2011 at age 96.
David Ogden Stiers
Maj. Charles Emerson Winchester III, Surgeon
In March 2018, Stiers died at age 75 from complications of bladder cancer.
Wayne Rogers
Capt. "Trapper" John McIntyre, Surgeon
Rogers died of complications from pneumonia at age 82 on Dec. 31, 2015.
Larry Linville
Maj. Frank Burns, Surgeon
Linville underwent surgery in 1998 to remove part of his lung after a malignant tumor was found and died two years later in 2000 from complications from pneumonia. He was 60.
McLean Stevenson
Lt. Col. Henry Blake, Commanding Officer, Surgeon
Stevenson was recovering from bladder cancer in 1996 when he died of a heart attack at age 68.
June 2022
Who can forget all the great TV shows, movies and music of the '70s?
Buy This Issue