Prom Through the Decades in Fashion and Film
Spring has sprung and May is just around the corner. This means that teens everywhere are in a frenzy, shopping for the perfect dress or tux and aiming to find a hot date for prom. I remember feeling so cool that I got to go to two proms back in 2007 since my high school boyfriend attended another school.
Not much of a clothing shopper, I basically picked the first dress I tried on and it looks a bit cringy in photos now (I dug up a photo and added it towards the end of this article…). But oh well, both proms ended up being a blast! As prom season begins, let's take a look back through a few decades at the fashion and some of the best prom movie scenes out there.
1950s
Let's start with the 1950s! As girls mostly wore dresses and skirts in this decade, you can bet that the prom dresses were very romantic and feminine. Dresses generally had a fitted bodice with a full skirt and ruffles, and some girls dared to wear a shoulder-baring dress. Boys wore classic suits but some opted for a bolder look by mismatching the colors of the suit jacket and pants.
While the iconic movie Grease came out in 1978, we can attach it to the '50s because that's when the movie is set. They attend a National Bandstand dance, which is pretty close to prom and the dancing is incredible. Hand jive anyone?
1960s
As the next decade approached, pastel colors became all the rage. Things went a little less formal and sleek sheath dresses were very popular, often with a high empire waist and a slim skirt. By the end of the '60s, prom dresses began appearing in bold, more vibrant colors with bigger accessories. Boys clothing stayed basically the same, as they continued to wear classic suits.
Check out the video above for a look into the planning, preparation, and of course the execution of a 1960s prom, as hosted by Coca-Cola!
1970s
Let's get groovy, baby! In the '70s, girls often went for a bohemian look with long flowing dresses, floral prints, and crochet fabrics. For boys, bowties were very popular with bright-colored suits and ruffled shirts. Some even wore patterned suits.
In 1976, the horror film Carrie gave us the most frightening prom scene of all time. Hopefully, no one dumped pig's blood on anyone else at your prom.
1980s
In the next decade, big sleeves, bows, and ruffles were in. This was a wild decade, full of unique fashion and shiny fabrics, gloves, tulle, and voluminous skirts. Boys and girls went crazy for volume in their hair and many boys went for white suits.
The 1980s were the decade of prom movies. There are so many to choose from… 1983's Valley Girl ("Well f*** you, for sure, like totally!"), 1984's Footloose (Dancing is illegal in this town, which could make prom kinda awkward…), 1985's Back to the Future (Can you imagine going back in time to one of your parent's proms and having to fend off their flirty advances? Yikes!), and 1986's Pretty in Pink (Turns out Molly Ringwald hated that pink prom dress.) and Peggy Sue Got Married, another time travel back to the '50s movie, but I would be remiss not to mention the 1980 film Prom Night, which features Jamie Lee Curtis and a killer trying to ruin prom for everyone. Uh oh!
1990s
In the beginning of the '90s, styles from the '80s still reigned supreme with shoulder pads making their way into a lot of outfits. Many girls wore black-and-white dresses or jewel tones and velvet material. Towards the end of the decade, spaghetti-strapped slinky gowns were in. Boys loved a punk rock look with stylish sneakers or vests.
The '90s were also filled with a plethora of prom scenes to choose from which apparently all came out in 1999 including Never Been Kissed, American Pie, 10 Things I Hate About You, and She's All That. While the American Pie guys went out on a quest to lose their virginities, the other films were a little more romantic. You can't forget Drew Barrymore's character's speech about bullying in Never Been Kissed, the incredible performance by the late Heath Ledger in 10 Things I Hate About You, or the appearance by Usher in She's All That.
2000s
In the 2000s, things became more minimalist again. Boys and girls opted for more simple and sleek styles. Some girls wore shorter dresses while others went for long and strapless was all the rage. Asymmetrical cuts were also popular and boys wore very simple black suits or tuxes, adding in some flair with their tie choice.
Some of my favorite prom scenes from this decade both happened in 2004 from Napoleon Dynamite ("I like your sleeves. They're real big.") and Mean Girls ("So, why is everybody stressing over this thing? I mean, it's just plastic. Could really just… Share it.") Don't forget Twilight (2008) with Edward and Bella dancing underneath a gazebo covered in lights after begrudgingly agreeing to go to prom.
Tell us in the comments, what did you wear to prom? What's your favorite movie with a prom scene?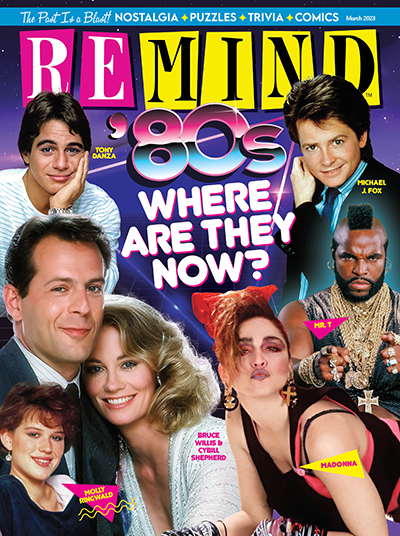 March 2023
Who can forget all the great TV shows, movies and music of the '80s? See what your favs are up to now!
Buy This Issue