Bob Newhart's Wife Ginnie Newhart Dies At 82
Ginnie Newhart, the wife of comedian and actor Bob Newhart, has passed away at 82 years old. The couple recently celebrated their 60th wedding anniversary this year. Ginnie passed away in their home in Century City after suffering from a long illness.
For fans of the show Newhart, with the most surprising series finale ever, they can thank Ginnie for the idea. She reportedly came up with the idea for the ending when his character Dick wakes up in the night as Bob Hartley in Chicago and realizes that the entire Newhart show has been a dream. It ties in with his original show The Bob Newhart Show. Bob played psychologist Bob Hartley on The Bob Newhart Show for six seasons and Vermont innkeeper Dick Loudon on Newhart for eight seasons.
Ginnie was born in New York on Dec. 9, 1940, and her father was actor Bill Quinn. He starred in The Mary Tyler Moore Show, Archie Bunker's Place, and Star Trek V: The Final Frontier. Ginnie and Bob were actually set up on a blind date by comedian Buddy Hackett and she once shared, "Buddy came back one day and said in his own inimitable way, 'I met this young guy and his name is Bobby Newhart, and he's a comic and he's Catholic and you're Catholic and I think maybe you should marry each other.'"
She added, "We didn't see each other for a while. And then I was working as an extra on a Jerry Lewis movie that I couldn't tell you the name of, but it was at Paramount. And Bob was doing [the 1962 film] 'Hell Is for Heroes.' He came to visit me on the set and I wasn't there. … So I went over to his set. He wasn't there. And we sort of lost touch because he was traveling a lot." Eventually, they found their way back to each other and got married on January 12, 1963. Ginnie often appeared in the background of his shows and of course, helped him with ideas.
Ginnie is survived by Bob, their children, Robert Jr., Timothy, Courtney, and Jennifer, and 10 grandchildren.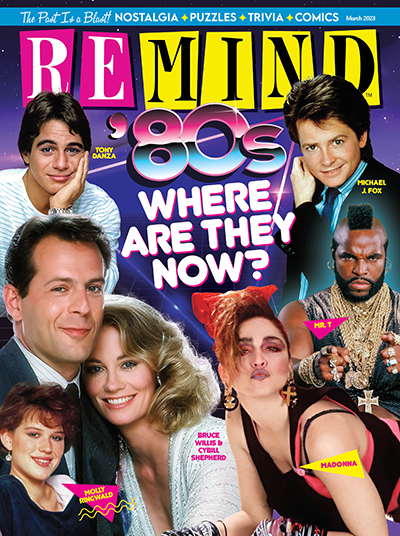 March 2023
Who can forget all the great TV shows, movies and music of the '80s? See what your favs are up to now!
Buy This Issue