Janet Jackson is Back on Tour With Her Biggest Hits
Janet Jackson is back! The 56-year-old is touring for the first time in many years and is performing some of her biggest hits this time around. She began her highly-anticipated Together Again Tour in Hollywood, Florida this month. The tour focuses on her long career and some of her most famous songs including "All For You" and "Together Again." Reportedly, the live show is split into five acts with 40 songs, complete with a video compilation of her best moments and some incredible outfit changes.
Of course, no Jackson concert would be complete without some amazing choreography as she proves she's still got it. The tour will bring Jackson and her opening act Ludacris around North America with stops in New York, Los Angeles, Toronto, and many more cities. When Jackson revealed the tour back in December, she shared, "You guys, I miss you so much, I am so excited to see you. You guys have no idea, I've missed you so much, so much, and I can't wait to be with you. I'm so excited."
Janet Jackson is "Together Again" with her fans on tour
View this post on Instagram
The tour marks the 30th anniversary of her janet LP and her 50th anniversary in the entertainment business. She has been performing since she was a little girl, first with her iconic family and later on her own. As for why she hasn't toured in several years, Jackson said that she has been focusing on being a mom. She had her son Eissa in 2017 with her ex-husband Wissam Al Mana.
While fans have been begging for new music, Jackson said that she doesn't know when it will come. She explained, "Even though it's something that I absolutely love, it still is my work, my job. There will be music at some point. Exactly when? I can't say just yet, but there will be. I love it too much not to do it. This is all I know. There's so much that I want to do — but my No. 1 job is being a mama."
If you're interested in jamming out with Jackson on tour, click here to get tickets in a city near you.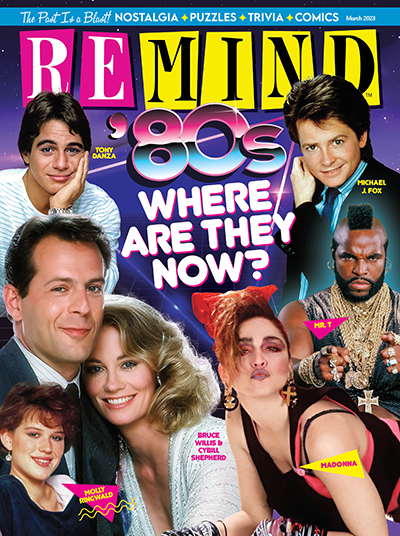 March 2023
Who can forget all the great TV shows, movies and music of the '80s? See what your favs are up to now!
Buy This Issue