Clash of the Metal Titans: Metallica vs. Megadeath
Way back in the early '80s, there was this little unknown band from the Los Angeles area trying to make its mark in the metal scene. You may have heard of them by now — Metallica ring a bell? Starting off with still-key members James Hetfield and Lars Ulrich, the band recruited a power-cord guitar player from an ad who goes by the name of Dave Mustaine. Not too much later they picked up bass guitarist Cliff Burton, and the band started playing a few gigs and recording demos. Of course they went through all the perils any good rock band just starting out went through. Finally getting their break to record their first full-length album Kill 'Em All, they all voted to kick Mustaine out of the band due to his excessive partying and all-around violent nature. While he never recorded any albums with Metallica, he at least has a few writing credits on Kill 'Em All. Mustaine was promptly replaced with current guitarist Kirk Hammett.
But it didn't take too long for Mustaine to get his new band, Megadeath, up and running, eventually getting his own big break. Both Metallica and Megadeath are considered part of the four key bands that are the forefathers of what we now know as the thrash metal sound, the other two being Slayer and Anthrax.
In honor of the 40-year anniversary of Dave Mustaine being booted from Metallica, we put together a little quiz with song titles from both bands. You just have to guess who did what.
How did you fair? Know your thrash?
Coincidentally, Megadeath  and Metallica are both touring this year, and while there were talks for them to rock together, all talks have stalled.
Also, Metallica has been making the news this week in advance of their latest album, 72 Seasons, and are playing on Jimmy Kimmel Live! all week.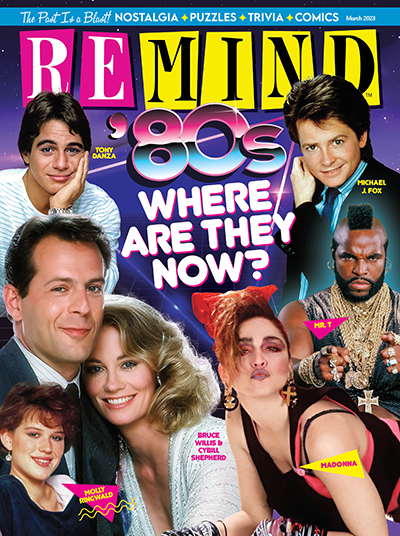 March 2023
Who can forget all the great TV shows, movies and music of the '80s? See what your favs are up to now!
Buy This Issue