Let's All Ring Our Cowbells for Christopher Walken's 80th Birthday Today
The legendary Christopher Walken turns 80 today (March 31, 2023)! To celebrate, let's take a look back on some of his most iconic roles and quotes over the years and see what he has in the works since he is showing no signs of slowing down. Walken became a child actor in the '50s, appearing as an extra in several TV shows. In his 20s, he started acting on stage before moving on to films in the '70s. His first big movie was The Anderson Tapes with Sean Connery.
He truly secured his spot as a prestigious actor in the late '70s by starring in Annie Hall and The Deer Hunter. While Walken has proven himself as a serious actor, he's shown he can be hilarious as well when one of his most quotable moments happened during one of his times hosting Saturday Night Live. He appeared in a skit with Will Ferrell when he famously asked the fake band, "I've got a fever and the only prescription is more cowbell."
Christopher Walken turns 80
As the years went on, Walken has been seen in over 100 movies and television shows with the most popular being Catch Me If You Can, The Dead Zone, Pulp Fiction, True Romance, Hairspray, Seven Psychopaths, and Batman Returns. Walken most recently starred in the TV shows The Outlaws and Severance. His starring role in The Outlaws was actually a pretty big deal for Walken as he has been mostly a movie star with only guest appearances in TV shows. He said about the role, "I've done the occasional TV thing but this, one episode after another, it's the first time I've done that. I'm just going where the work is."
As for upcoming projects, he's set to star in Dune: Part Two as Emperor Shaddam IV. Walken admitted that he is really happy to still be working regularly. He shared, "I've felt mostly lucky throughout my career, but also lucky to still be here. At this point, I try to take care of my health and stay viable and strong enough to go to work and get sleep and exercise and eat well. Yes, self-preservation is mostly what I do these days."
Let's all share some birthday wishes for him!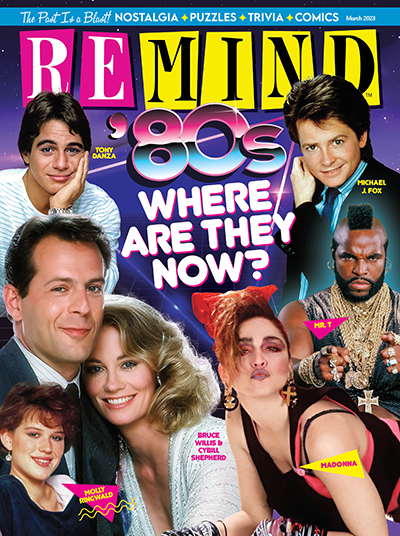 March 2023
Who can forget all the great TV shows, movies and music of the '80s? See what your favs are up to now!
Buy This Issue