Brigitte Nielsen Laughs at Those Who Criticized the Age Gap Between Her and Her Husband
Brigitte Nielsen is not afraid to do things unconventionally. The '80s model and actress has been in the press a lot over the years, with fans criticizing her choices to marry a much younger man and have a baby at 55 years old. Nielsen's husband Mattia Dessì is about 16 years younger than her and the pair have been married since 2006. This is Nielsen's fifth marriage and her longest, as they approach their 20th anniversary in a few years. Nielsen is known for her relationships with some high-profile celebs including Sylvester Stallone (the couple starred in Rocky IV together) and Flavor Flav. While people thought their age gap was odd, Nielsen said that she has had the last laugh because they are still very happy together.
Nielsen said, "I remember people were saying, 'It's ridiculous, who does she think she is?' It just fits perfectly. We're a good team." After over a decade of trying to have a baby with IVF, Nielsen got pregnant and had a daughter named Frida in 2018. She has four sons from her previous relationships.
Nielsen added, "A good marriage is all about making it exciting and about acceptance and respect. You shouldn't ever try and change the person you fell in love with to 'make them better.' Allow them to be them. And by the way, all those people who were laughing and pointing fingers at me are divorced now, and we're still together."
View this post on Instagram
She shared that becoming a mother again at an older age has given her nothing but joy and that she has become "so grateful for Frida, for my health, for everything." She continued that despite their age difference, she doesn't feel the need to keep up with her husband and try to look younger and younger. Although, she joked that she might consider anti-aging techniques in about a decade.
Nielsen said, "Listen, I feel good at 60, but 10 years from now? That's when gravity really starts pulling everything down. There's a big difference between 60 and 70! So I'm just going to take it one day at a time, and if I'm really miserable about the way I look at some point, then I'll do something about it."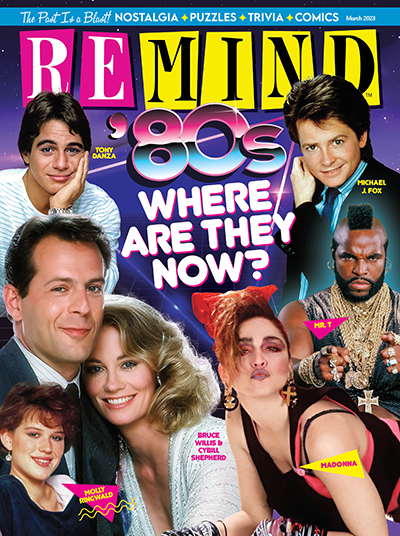 March 2023
Who can forget all the great TV shows, movies and music of the '80s? See what your favs are up to now!
Buy This Issue