U2's Bono, The Edge & David Letterman: A Homecoming Like No Other
What happens when music legends and old friends reconnect? It's magic.
During lockdowns in 2020, Bono and The Edge had some time on their hands. They decided to spend time revisiting many of their iconic songs and re-recorded them for today's audience. When they emerged from their bubble, Bono invited David Letterman, a longtime friend, to visit the pair in Dublin and attend a special show at the old Ambassador Cinema building at the top of O'Connell Street on Dublin's Northside. What unfolds is documented in Disney+'s Bono & The Edge: A Sort of Homecoming With David Letterman, which debuts Friday, March 17.
Part concert movie, part travel adventure, this two-hour documentary is a story of one of the most remarkable friendships in the history of rock and roll.
As well as the concert performance itself, the special shares the extraordinary relationship between Bono and The Edge and how it has developed across 45-plus years of close friendship and became one of the most remarkable songwriting partnerships in the history of rock 'n' roll. The travel side of the documentary captures Dublin through Letterman's eyes as he experiences Bono and The Edge's home city for the first time. While jam-packed with content, the entire documentary only took weeks to make.
"Recently, I won a radio contest," said Letterman. "Winner gets to visit Dublin with Bono and The Edge (radio contest part not true, but I feel like a winner). They showed me around, introduced me to their musician friends, and performed some of their greatest songs in a small theater. It's a great tour. Get in touch with them ― I'm told there are still availabilities. I'm the luckiest man on the planet. (There are no availabilities)."
Letterman has a 25-year relationship with U2 but had previously only spent time with Bono and The Edge in the U.S. As well as being their honored guest at an intimate concert performance at a local landmark, Letterman embarks on his own exploration of the city. He visits the legendary Forty Foot swimming spot on a freezing cold morning and rides the DART commuter train north from Co. Wicklow. Letterman also inspires a brand new U2 song written by The Edge and Bono and narrowly escapes having to perform at a sing-song at the legendary McDaid's pub off Grafton Street with an equally legendary bunch of artists and musicians, including Bono, The Edge, Glen Hansard, Markéta Irglová, Imelda May, Loah, Saint Sister, Grian Chatten of Fontaines DC, and Dermot Kennedy, whose voice Bono describes as a "sonic boom."
The documentary's premiere coincides with U2's highly anticipated album Songs Of Surrender ― a collection of 40 seminal U2 songs from across the band's catalog, re-recorded and reimagined. This is the latest in Disney+ music specials from Disney Branded Television, which also includes last year's highly successful Elton John Live: Farewell From Dodger Stadium and the critically acclaimed Encanto at the Hollywood Bowl, both currently streaming on Disney+.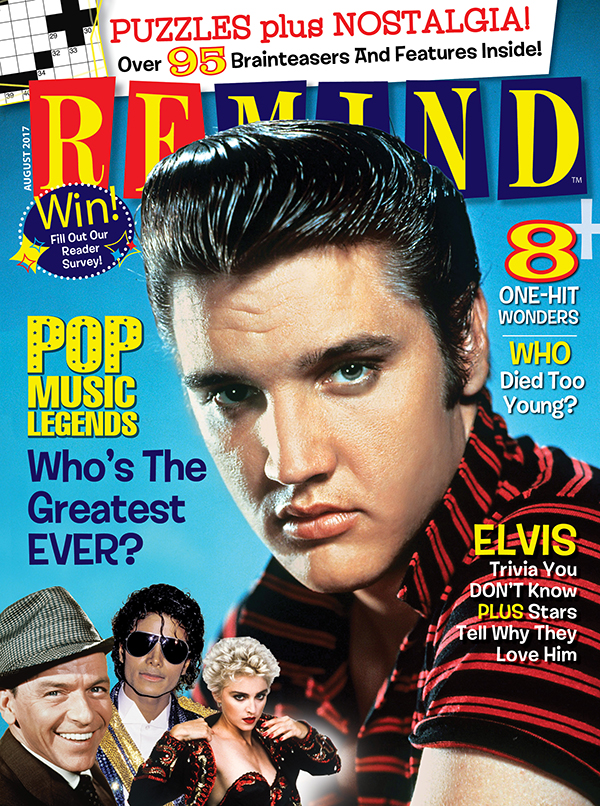 August 2017
Dedicated to the sights, sounds and stories of the golden age of pop.
Buy This Issue