Michael Jackson's Epic Music Video for "Thriller" Turns 40 This Year
Is a Halloween night really even Halloween if "Thriller" isn't played? While Michael Jackson's spooky and catchy hit song released its music video on Dec. 2, 1983, many fans love watching it around this time of year for its creepy vibes. "Thriller" became a cultural phenomenon and is still considered one of the greatest music videos of all time. When you picture the late Michael Jackson, chances are you picture him in his iconic red outfit from the video.
In honor of the short film's 40th anniversary, Showtime is releasing a documentary feature on the making of the best-selling album. Thriller 40 will premiere on Showtime, Paramount+, and MTV on Dec. 2, allowing fans to get a glimpse inside the making of the album and the short films that accompanied it with never-before-seen footage and exclusive interviews. While we wait for that documentary, let's go over some crazy facts about the music video, including the fact that it almost never saw the light of day.
Michael Jackson wanted the film destroyed
It is amazing that "Thriller" ever got released to the public. For starters, Epic Records did not want to release "Thriller" as a single because they didn't feel it compared to other hits including "Billie Jean" and "Beat It." However, a promoter named Frank DiLeo suggested that Jackson release a third music video for the album after sales started declining in 1983. He even suggested that the music video have a scary tone to it. Then, after the film was made, Jackson panicked and wanted it destroyed! At the time, he was a devout Jehovah's Witness and worried the church was going to excommunicate him for the film's contents. A compromise was made and the beginning reads, "Due to my strong personal convictions, I wish to stress that this film in no way endorses a belief in the occult."
Jackson is not actually a werewolf in "Thriller"
Despite what you may think, he does not transform into a werewolf during the film. No, I'm not being sarcastic. The makeup artist, Rick Baker, wanted to create a different character so Jackson is technically a "were-cat." Baker also revealed that he thought that Jackson would be opposed to the makeup effects but ended up being really into it! Later on, he also turns into a zombie in the film.
Vincent Price's part was originally supposed to be longer
Horror movie icon Vincent Price (who passed away about a decade later on Oct. 25, 1993) famously lends his voice to "Thriller." Turns out, he was supposed to have an even longer part. Part of his "rap" was cut from both the song and music video including the lines "The demons squeal in sheer delight / It's you they spy, so plump, so right." Price wasn't the only horror icon attached to the project. It was directed by horror film director icon John Landis.
Jackson's exotic pets visited the set
Reportedly, Jackson would bring his pet snake named Muscles to the set. He was known to bring his exotic animals, including chimpanzees, to the studio and filming.
Now, go ahead and relive the magic that is "Thriller" below! Then comment your thoughts and tell us if you love it or hate it!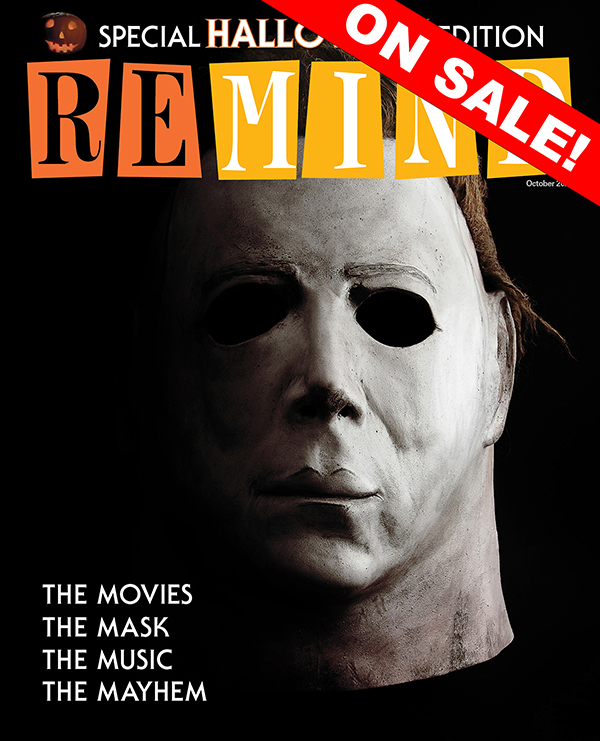 October 2021
This super-sized issue looks at the horror franchise that started them all, HALLOWEEN
Buy This Issue