It is Svengoolie's Favorite Time of Year! Check Out His Schedule for October on MeTV
It is finally Svengoolie's favorite time of year and he is back with a brand-new schedule for October on MeTV. Svengoolie, currently played by Rich Koz, is the host of Svengoolie's Halloween BOOnanza again this year and is sharing some of his favorite creepy, scary, and kooky films in honor of Halloween. Though Svengoolie brings the Halloween fun all year long, of course, he brings it up a notch in October. This month, MeTV is airing Halloween-themed episodes of your favorite nostalgic shows as well as some old horror films. Be sure to check out the full schedule at the end of this article.
First up on Oct. 7, MeTV will be playing Killer Klowns from Outer Space and The Crawling Eye. If you're afraid of clowns, you might want to skip the 1988 film about aliens who look like clowns who come to Earth to terrorize a small town. If you prefer older horror movies, you can check out 1958's The Crawling Eye about mysterious decapitations that seem to be connected to a radioactive cloud.
View this post on Instagram
On Oct. 14, Svengoolie presents Abbott and Costello Meet Frankenstein, a 1948 comedy/horror film starring, you guessed it, the famous Abbott and Costello. Despite its success, the film was actually made against the wishes of Abbott and Costello, who reportedly didn't like the script but were contractually obligated to make the film. Next is the 1986 version of Invaders from Mars and Svengoolie Uncrypted, the special from last year.
On Oct. 21, Svengoolie brings us The Night Stalker, a 1972 horror/thriller movie that was originally made for ABC. This spooky night also brings you one of the most iconic monsters of all time with the film Godzilla, King of the Monsters! Lastly, on Oct. 28, just days before Halloween, MeTV is airing The Night Strangler and Trilogy of Terror. Svengoolie said about the final films, "Our final Saturday of October has the perfect follow-up to Night Stalker — it's the second Kolchak adventure, that lead to the TV series, with our favorite reporter again battling to uncover the truth about an undying killer — The Night Strangler — and, as a special treat, an encore of the terrifying Karen Black chiller: Trilogy of Terror!" All films begin at 8 p.m. ET on their respective dates. After the films end for the evening, MeTV will air marathons of shows such as The Twilight Zone.
View this post on Instagram
Svengoolie added, "As mentioned, all month long, Svengoolie's Halloween BOOnanza will feature episodes of your favorite MeTV shows that lend themselves to the season — including our westerns, sitcoms, the shows you'd expect like Alfred Hitchcock Presents — and some you wouldn't — like The Love Boat and even — Perry Mason! We always like to point out that you'll see the Andy Griffith Show episode "The Haunted House" — which actually planted the seed for the beloved Don Knotts' favorite The Ghost and Mr. Chicken. "Scary Stooges"? We'll have them. Gilligan as a vampire? Yep — and a lot more." Check out the full schedule here on MeTV.
OCT 7
Killer Klowns from Outer Space
The Crawling Eye
OCT 14
Abbott and Costello Meet Frankenstein
Invaders from Mars (1986)
Svengoolie Uncrypted (2022 special)
OCT 21
The Night Stalker
Godzilla, King of the Monsters!
OCT 28
The Night Strangler
Trilogy of Terror
*Chicago viewers can watch an encore presentation on CW26 the following Saturday at 11 a.m. CT!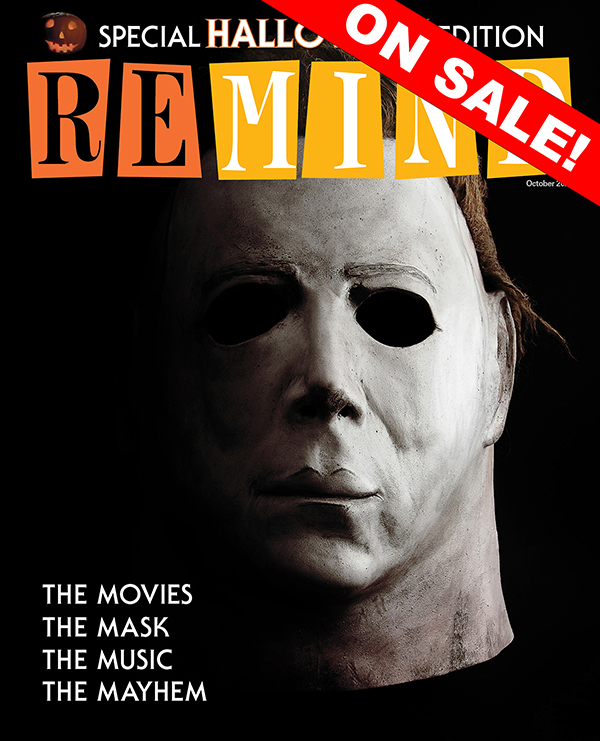 October 2021
This super-sized issue looks at the horror franchise that started them all, HALLOWEEN
Buy This Issue