Rare Slasher Flick 'Strange Behavior' (aka 'Dead Kids') Comes to the Big Screen
In 1981 the sleepy Midwestern town of Galesburg, Illinois, was tormented by a series of brutal murders that claimed the lives of multiple teens in the community, including the mayor's son. Meanwhile at the local university, students struggling to earn a buck agree to be part of some experimental studies involving mind control. It's all part of the 1981 film Strange Behavior (a.k.a. Dead Kids), a coproduction between the United States, New Zealand and Australia.
The sci-fi/horror/comedy film with plenty of fun jolts was cowritten by Bill Condon and Michael Laughlin, and had just a $1 million budget and roughly a month to shoot it. It was Laughlin's first time directing, and Condon would go on to fame with films like Dreamgirls, Chicago and Gods and Monsters.
The film has a storied tale of how it's making its way back to the Midwest after over 40 years, as Strange Behavior is now part of a rare FREE double-feature theatrical event taking place at the historic Orpheum Theatre, 57 S. Kellogg St., Galesburg, Illinois, on Saturday, Oct. 14. Doors will open at 6pm and the projector will start rolling at 7pm. Next of Kin, the 1982 New Zealand/Australia cult classic (not the Patrick Swayze movie of the same name), is the other film airing that night. Movie themed drinks and other fun amenities will be part of the evening, as well. One of the people responsible for organizing the event is Galesburg native and "I Like It Spooky" podcaster Brian Godsil.
"A couple years ago I kind of dipped my whole body deep into horror films," Godsil tells us. "I started shoveling away at this pile of horror movies, and I ended up watching 336 horror movies in a year, when I stumbled across Dead Kids. I saw the poster and was like, oh, that looks interesting. And if you watch the trailer, maybe 10 seconds into the trailer, it says something along the lines of 'the small Midwestern town of Galesburg where nothing ever happens.' And you're like, 'What? Galesburg?'"
He immediately thought it was a Galesburg in a different state, but learned it was indeed set in his community — but not filmed there. Godsil worked with Severin Films, a distributor who owns the rights to the title, to bring the film to the town for the first time. Thanks to their work, along with sponsorship from The Orpheum, Severin Films and the Flacco-Nesselroad Family (a local physician group that supports the historic venue), attendance to the event is FREE.
It takes a passionate horror fan to make this happen, and Godsil isn't shy about sharing his love affair with the genre.
"I've always kind of loved horror movies, and I think we just kind of stumbled on it as kids," he shares. "I was born in 1978, so I was lucky enough to grow up in the 1980s and early '90s. I mean, I always tell people while you were watching Halloween and Friday the 13th, which is fine, I was watching The Incredible Melting Man, Faces of Death and Truth or Dare? A Critical Madness, which is a shot-on-video Tim Ritter movie, which no 8-year-old should be watching. But that's what we got our hands on. My dad was a railroader, so we watched a lot of X-Files and WWF professional wrestling growing up, and wrestling's always kind of been the tie-in for a lot of people who like horror."
In between working full time as a medical office assistant, Godsil and his "I Like It Spooky" cohost Clint Tacy put out 16 podcasts a month, including two feature-length episodes that spotlight interviews with cast and/or directors on upcoming films and TV series. Every Monday, Wednesday and Friday, Clint also releases a short episode (8 to 12 minutes) called "Spill the Guts," where he covers horror, comic/action figures and convention news. The duo also dedicates the first Tuesday of the month to run through the movies streaming on Crackle (the free streaming service), and the first Thursday of the month to cover movies streaming on the free Redbox app.
We dare you to show up to this fear fest of fun double fun on Saturday, Oct. 14 at the historic Orpheum Theatre, 57 S. Kellogg St., Galesburg, Illinois!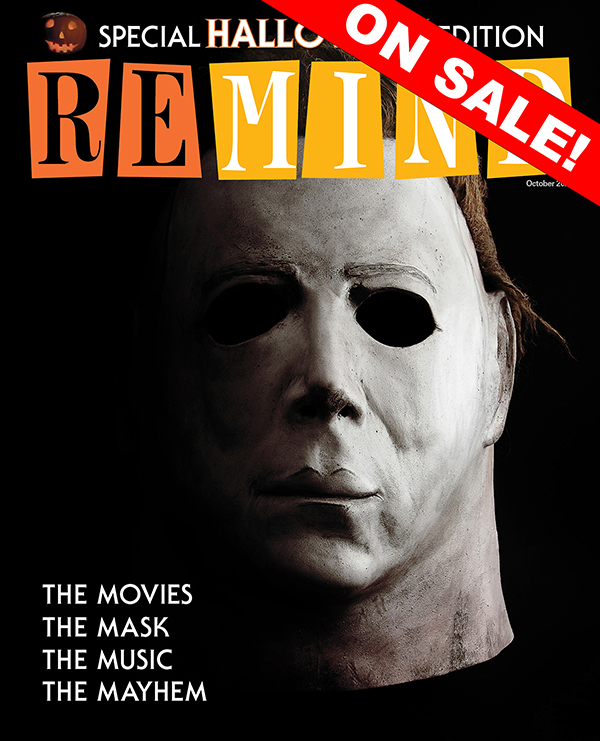 October 2021
This super-sized issue looks at the horror franchise that started them all, HALLOWEEN
Buy This Issue