These 1980s High-School-Themed Movies Earn Extra Credit For Fun
Next to your class reunion, the best place to experience high school, relive happy memories or exorcise your bad-grades-and-detention demons is at the movies. There, endless homework, humiliating gym classes, dateless dances and the bully behind your locker door can't touch you. Improbable romances blossom. Parents stay mum. Meanie teachers get their due. And myriad other pre-adulthood dreams — mostly entailing getting away scot-free with shenanigans — can come true.
Movies set in the halls of high school go back as far as 1955's Blackboard Jungle and Rebel Without a Cause. The genre picked up steam in the '70s as American Graffiti (1973), Carrie (1976), Grease (1978) and Rock 'n' Roll High School (1979) all did well at the box office on their way to becoming iconic. But the 1980s receive the highest marks for high-school-themed cinema.
These Soundtracks Rocks
The decade launched with Fame (1980), which followed fictional students at what was then called New York City's High School for the Performing Arts from their auditions through heart-rending setbacks and modest triumphs all the way to graduation. A moderate box office hit, its relatable music made Fame stand out.
Hardly the finest example of filmmaking, 1981's sex-soaked Porky's — set in 1954 at the fictional Angel Beach High School — nonetheless became the stuff of legend, due to the bragging rights real teens could claim for having seen the R-rated raunchfest.
A year later, youthful scribe Cameron Crowe went undercover as a student at San Diego's Clairemont High School, hoping to write a book about his experiences. The movie rights for the well-received result, Fast Times at Ridgemont High, sold quickly and Crowe himself penned the R-rated screenplay. The 1982 film is best remembered for Phoebe Cates' scenes in a red bikini and Sean Penn's breakout performance as stoned surfer Jeff Spicoli, who only needed some tasty waves and a cool buzz to get by. But it also deftly tackles subjects like teen sexuality, abortion and true friendship in a way that seems timeless.
Meanwhile valley girls find punk rock boys and fall in love in a mismatched relationship that neither ones friends support. Nicolas Cage's stars in his first major role after Fast Times, as love-lorned Randy in 1983's Valley Girl. After his heart is broken by his true love Julie (Deborah Foreman) he attempts to win her back at the Valley High prom. This movie has a killer soundtrack and is a true 80's gem.
Though it wasn't Kevin Bacon's first role, playing Chicago teen Ren McCormack — whose family relocates to a tiny town that banned secular music and dancing — in 1984's Footloose made Bacon a heartthrob. With the help of some colorful locals, Ren fights the town's ordinance and scores his school a prom where, indeed, everybody cuts footloose.
John Hughes Rules!
In 1984, filmmaker John Hughes turned his attention to school days and redefined both his career and the teen-movie genre. The short description of his first high-school-centered drama Sixteen Candles (1984) is "girl's family forgets her birthday, while geeky lad (Anthony Michael Hall) attempts to steal her undies to prove he's a stud." But thanks to a savvy performance by Molly Ringwald as the beleaguered teen, who ultimately gets the school heartthrob to deliver those candles, the movie set the uniquely poignant tone for future Hughes offerings.
The Breakfast Club (1985) also starred Ringwald (this time as a high school queen bee) and Hall (geek yet again), plus a roster of emerging teen talent, including Ally Sheedy, Emilio Estevez and Judd Nelson, who stole the show as everyone's favorite burnout, John Bender. The film's "each one of us is a brain, and an athlete, and a basket case, a princess and a criminal" letter to icky Principal Vernon (Paul Gleason) became an enduring rallying cry for awkward teens everywhere.
In 1986, Hughes debuted Ferris Bueller's Day Off, which starred Matthew Broderick as an over-it high school senior who plans a memorable hooky day. That same year, Pretty in Pink — another Ringwald starrer — proved that a poor girl rich in self-confidence could win the enlightened wealthy boy (a fluffy-haired Andrew McCarthy) with the help of a homemade prom dress. (Another Hughes offering, 1987's Some Kind of Wonderful was only a modest success, bringing his school days to an end.)
Gotta Get Back in Time For These Blockbusters
Already a heartthrob courtesy of his portrayal of Family Ties' high school Reaganomics enthusiast Alex P. Keaton, Michael J. Fox added star appeal to Robert Zemeckis' time-traveling Back to the Future in 1985. Fox also appeared as a high schooler in a hairy predicament in Teen Wolf that same year.
By 1988, the genre had taken a darker turn. The exact opposite of Hughes' soft-edged dramas, the black comedy Heathers starred Beetlejuice's Winona Ryder as a good-girl new kid first wooed then tormented by her high school's mean-girl clique. The following year, the elegant but somber Dead Poets Society (1989) was a vehicle for Robin Williams to show off his serious side as renegade English teacher John Keating, who inspires his lads with colorful lessons in individuality. Its "wealth doesn't equal happiness" message still resonates with film lovers. 
1989 also saw Cameron Crowe returning to high school cinema with Say Anything, his directorial debut. John Cusack plays oddball Lloyd Dobler, who courts valedictorian Diane Court (Ione Skye) against her father's wishes. In the film's most iconic scene, Lloyd hoists a boombox blasting Peter Gabriel's "In Your Eyes" over his head outside Diane's bedroom window to convince her to accept his love. 
Spoiler alert: It works.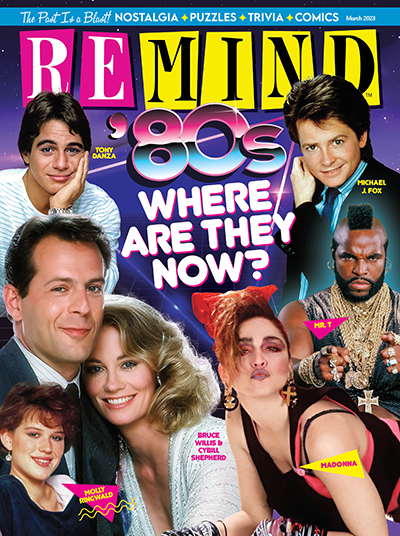 March 2023
Who can forget all the great TV shows, movies and music of the '80s? See what your favs are up to now!
Buy This Issue