How the Biggest Music Festival Lollapalooza Got its Name + Its Long-Running History
Lollapalooza is gearing up to start this weekend, with big acts such as Billie Eilish, Lana del Rey, Kendrick Lamar (and many more) set to perform. The four-day music festival, now one of the largest in the world, is held each year in Chicago at Grant Park, but it began in 1991 as a multi-city tour that was a farewell tour for the band Jane's Addiction. It was started by the group's singer, Perry Farrell. He wanted to not only showcase Jane's Addiction but also share the music of a diverse group of other well-known and up-and-coming acts with concert lovers. No need to pack up your water bottles for the sweltering heat this festival is known to have — we have a complete history for you here!
Lollapalooza is an archaic word meaning "extraordinarily impressive." Farrell was inspired to name the music festival this after hearing the word in a Three Stooges film.
In the inaugural lineup of Lollapalooza, Jane's Addiction was joined by Siouxsie and the Banshees, Living Colour, Nine Inch Nails, Ice-T's Body Count, Butthole Surfers, Henry Rollins Band, Fishbone and the Violent Femmes. It was an all-star lineup for the younger Gen Xers into New Wave and Punk acts that weren't very mainstream or all that accessible.
After the first year of this traveling carnival being so successful, a similar tour was planned for 1992 with a second stage. It continued this way with more stages and acts added until Lollapalooza went on hiatus in 1997.
Farrell and Lollapalooza returned in 2003 when Jane's Addiction reunited. In 2004, the event was canceled due to poor ticket sales, and this led to the revamp of a multi-day festival in Chicago in 2005. It has had its struggles, with several festivals canceled due to financial struggles, and, of course, the pandemic (although a virtual version aired in 2020), but it mostly continues to have a successful turnout.
The festival have also been known to include nonmusical performances, such as the Jim Rose Circus Side Show, an alternative freak show, and the Shaolin monks. There are art displays, nonprofit groups, virtual reality games, and, of course, plenty of food and drink options.
In 1991, it cost about $31.50 to attend Lollapalooza. These days, a general admission ticket will cost you around $365 or more. However, the original concert only featured a handful of artists; you can see 170 artists at this year's event (of course, it would be impossible to see them all, but it just shows the variety of the event). The original Lollapalooza has inspired other countries to host similar events too, including Chile, Brazil, Germany, Paris and more.
Farrell said in 2014, "I look at it like I'm trying to create a social gathering where people can feel like they were at the right place at the right time and they can brag about it and they can tell their kids and their grandkids about it, they can meet the love of their life there and they can find out and discover who the hell they are there. It's a rite of passage. I wanna be among the comrades – the hip, the cool, the now; those that are forging our future."
Let's look back at some of those other phenomenal line-ups of JUST the main stage over the years. You can see full lineups of every year here.
1992:
Red Hot Chili Peppers
Ministry
Ice Cube
Soundgarden
The Jesus and Mary Chain
Pearl Jam
Lush
Porno for Pyros
1993:
Alice in Chains
Primus
Dinosaur Jr.
Fishbone
Arrested Development
Front 242
Babes in Toyland
Tool
Rage Against the Machine
1994:
The Smashing Pumpkins
Beastie Boys
George Clinton & the P-Funk All Stars
The Breeders
A Tribe Called Quest
Nick Cave and the Bad Seeds
L7
Boredoms (first half of tour)
Green Day (second half)
1995:
Sonic Youth
Hole
Cypress Hill
Pavement
Sinéad O'Connor (first few shows; then bowed out due to pregnancy)
Elastica (replaced O'Connor, as did Moby for a few shows)
Beck
The Jesus Lizard
The Mighty Mighty Bosstones
1996:
Metallica
Soundgarden
Ramones
Rancid
Shaolin Monks
Screaming Trees
Psychotica
1997:
Orbital
Devo
The Prodigy
The Orb
Tool
Snoop Doggy Dogg
Tricky
Korn (dropped out in July due to illness)
Have you been to any Lollapalooza festivals? What was your favorite act? Tell us in the comments!
We have been to many. Our best memories are from the first one (how can you go wrong with that lineup?), or in 2009 when Depeche Mode played and we danced in a mud-soaked field; and, finally, the magical fireworks that went off behind Radiohead also Chicago in 2008.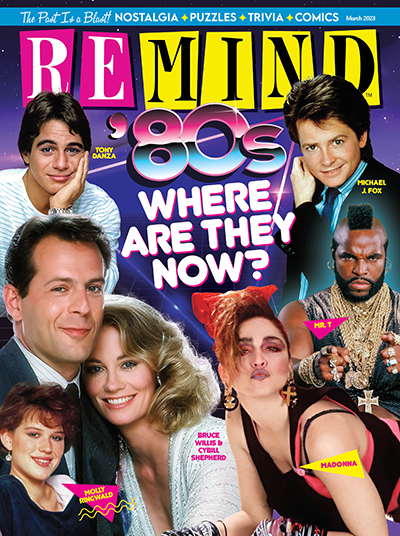 March 2023
Who can forget all the great TV shows, movies and music of the '80s? See what your favs are up to now!
Buy This Issue