You wanted the Best! You Got The Best! Food That is…
Gene Simmons and Paul Stanley of rock band KISS fame opened another branch of their Rock & Brews restaurant chain today in Milwaukee. The band shared excitedly, "We've been all over, and for us to be in Milwaukee, that's magical for us. I remember as a little kid, the Milwaukee Braves. So it goes back to that part, and then, being able to play with KISS. And now, having a Rock & Brews here. It's a dream come true." They have other locations in California, Florida, Texas, and Oklahoma with more on the way. They pride themselves on the quality food and brews they serve. "You better learn to say the word, 'wow,'" Simmons said. "You're surrounded by the culture that we grew up with, the bands that we all love."
The newest location is in the heart of downtown Milwaukee in the Potawatomi Hotel & Casino while the property is undergoing a $190 million renovation project. Which I for one have definitely donated to! The two took time out of their busy schedules to be on hand for the ribbon cutting. "Every Rock & Brews is special," Stanley said. "This is our 23rd. So, with each one that we open, we pretty much raise the bar because we learn so much from each one. Every one we're proud of. But this is our latest and this is our greatest as far as I'm concerned." Sadly I missed them as they were in and out however there were KISS fans still floating around hoping to still catch a sneak peek of the two famed rock legends.
Surrounded by new gaming space is a pretty decent-sized gastropub at over 6,00 square feet of eye-popping visuals. For you suds lovers, it has 48 taps of beer and the food is rock and roll themed such as SGT. Pepper's Handcrafted Jalapeño Poppers, Demon Chicken Sandwich, We Salute You Pulled Pork, and Sweet Surrender Bread Pudding. To top it all off, the venue will also host live music on a local and national scale. We were there to catch L.A.-based PRISS, an all-female KISS cover band being the first to break in the new stage.
Don't worry if there is not one in your area yet, there may be soon! "We've been accelerating our pursuit to partner with leaders in the casino industry looking for a brand to increase traffic and lift to their gaming offerings," reflects Adam Goldberg, CEO & Partner of Rock & Brews. "We're excited to see our restaurants and casinos open and being enjoyed by players and also celebrate upcoming growth by introducing Rock & Brews to new cities nationwide."
You can catch KISS on the road later this year as part of their 'End of The World Tour', plus as an added bonus, the Forest County Potawatomi Tribe will be bringing them in to play at the Crandon International Raceway in Wisconsin, on September 1 as part of this new collaboration to kick start this FINAL leg. Like we believe they are really going to hang it up, right?
Check out some more pictures from the space: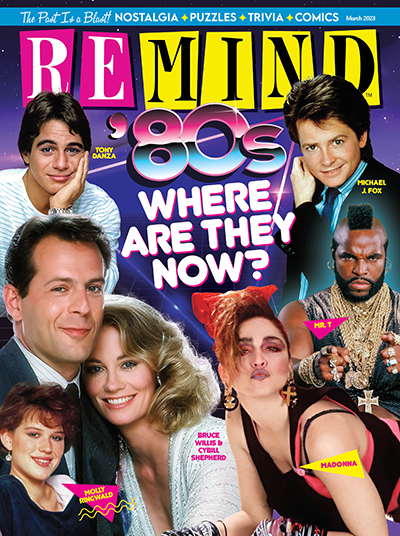 March 2023
Who can forget all the great TV shows, movies and music of the '80s? See what your favs are up to now!
Buy This Issue