Her Legacy Will Live on Forever – Top 5 Sinéad O'Connor Songs
Sinéad O'Connor was one of the most unique singers of all time, with a hauntingly beautiful voice and a passion for tackling issues that others shy away from including social injustice and mental health. She passed away at the age of 56, just weeks after announcing a new album and upcoming tour. As her family, friends, and fans mourn such a huge loss, let's take a look at her legacy and some of her best songs over the years. While she is now gone, her songs will live on forever, for audiences new and old to enjoy.
"Nothing Compares 2 U"
This song is perhaps one of her most famous and vulnerable songs. It was written by the late Prince and soared to the top of the charts when the Irish star sang it in 1990. It has a simple melody to really put the focus on the lyrics of longing and loss. The music video featured close-up shots of O'Connor and paired very well with its honest words.
"Mandinka"
This song celebrates the Mandinka people of West Africa and their culture. O'Connor's lovely voice and the fun rhythm made this song a hit. Many people are flocking to the music video for this song and saying that it was the first song of hers that they heard that made them love O'Connor and her talent. O'Connor proved that she could pull off both pop/dance songs as well as slow, sad tunes.
"The Empire's New Clothes"
O'Connor was very open about her past trauma including abuse and miscarriages, this song talks about the judgment she faced being an unmarried young mother in a strict Irish Catholic family. The song has more of an alternative rock feel that was so popular in the '90s and features the incredible lyrics, "I will live by my own policies / I will sleep with a clear conscience / I will sleep in peace."
"The Last Day of Our Acquaintance"
If you're going through a breakup, O'Connor's songs are often the perfect choice and this one is no exception. The song talks about a relationship's end and all of the complex feelings and emotions that can arise while going through something so painful. Much like "Nothing Compares 2 U," it is a vulnerable song that explores topics of love and loss matched with her gorgeous vocals.
"I Want Your (Hand on Me)"
This song is a bit more upbeat than most of her hits and gained traction after it was featured in a Miami Vice episode. It blends a feel of hip-hop and alternative rock and is one of the more light-hearted songs on this list. Now tell us, which song of hers is your favorite and which would you add to this list?
Lastly, if you want to pay tribute to O'Connor, a documentary is currently streaming on Showtime about her life, called Nothing Compares. The musical biopic was released last year and was directed by Kathryn Ferguson. She said, "Nothing Compares isn't a regular music documentary, instead it's a portrait of one unique artist, her cultural significance in Irish history and how she affected the lives of millions around the world." It focuses on her life from 1987 to 1993 and the way she used her fame to speak out against issues such as misogyny and racism. May she rest in peace.
If you or someone you know is struggling with mental health or in crisis, help is available. Call or text 988 or chat 988lifeline.org. Text MHA to 741741 to connect with a trained Crisis Counselor from Crisis Text Line. If an emergency call 911 or go to the nearest emergency room.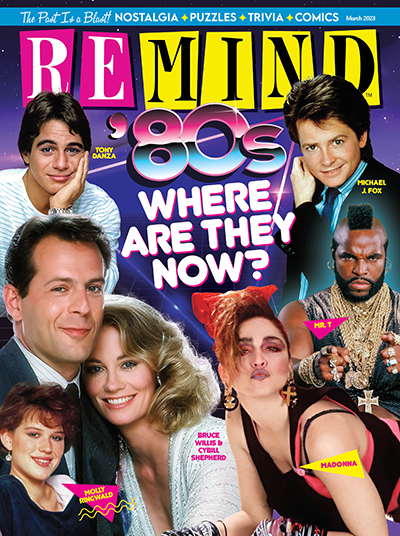 March 2023
Who can forget all the great TV shows, movies and music of the '80s? See what your favs are up to now!
Buy This Issue