The Material Girl Celebrates a Music Milestone
Madonna Louise Ciccone — just Madonna, to all you pop fans — is a Renaissance woman in the truest sense of the term: singer, composer, producer, actor, executive, humanitarian and mother of six. Her commitment to excellence and determination to succeed started her on the road to the top from the moment she lip-synched her debut single "Everybody" at New York's Danceteria in 1982. Since then, she has racked up 38 Top 10 singles, 58 songs and broken every available radio, video, sales and box office record. All told, Madonna's No. 1 and No. 2 singles have spent a total of 40 weeks at the top of the charts — almost a solid year of uninterrupted hits. Of her 14 studio albums, the latest being Madame X, every one has reached the Top 15, all but one has made it into the Top 10, and nine have attained Top 5 status.
Madonna began her success at the dawn of MTV and music videos, and her many videos have been played more often than those of any other artist in MTV history. As spectacular as her videos are, her sold-out music tours, which combine music, theatrics and spectacle, have packed stadiums globally for almost three decades. In honor of her debut release Madonna turning 40, let's look at some of those hits that made her the superstar mega icon she is today.
Everybody
Part of the demo tape she made early in her career, this was the first release from her self-titled debut album in 1982, and in early 1983, it reached No. 3 on the dance/disco chart.
Holiday
Penned by a heavy hitter DJ/producer in the NYC music scene in the 1980s, John "Jellybean" Benitez. He gave this song the pop hook that helped it crack the Top 20 on the Hot 100, top the dance chart for five weeks and become an anthem to many in the LBGTQ community.
Lucky Star
This is the hit that paved the path for her superstardom, as it reached No. 5 on the Hot 100 in 1984, and we started to see her sexuality shine. Not only that, girls at the time caught on to her fashion and started mimicking her. With layers of mesh and lace, bleached hair, and oodles of bracelets and necklaces with midriff-baring shirts that were often paired with skirts worn over leggings, she was a fashionista all were following.
Burning Up
This song is fire! While not the biggest hit of her debut, it did peak at No. 3 on the dance charts and has a rocking dance beat that is sure to be a hit at any club.
Borderline
Last but not least, this was the fourth release off the album and was her first break into the Top 10 that would start a streak of 17 songs from 1984-89 to land in the Top 10. It also was played in heavy rotation on MTV and is considered to be one of the greatest songs of the decade
Recently the Queen of Pop underwent an emergency health scare that led to her postponing her world tour. She shared this with her fans in celebration of her first album. We hope to see you on the road again soon, Madonna!
View this post on Instagram
Tell us what's your favorite track?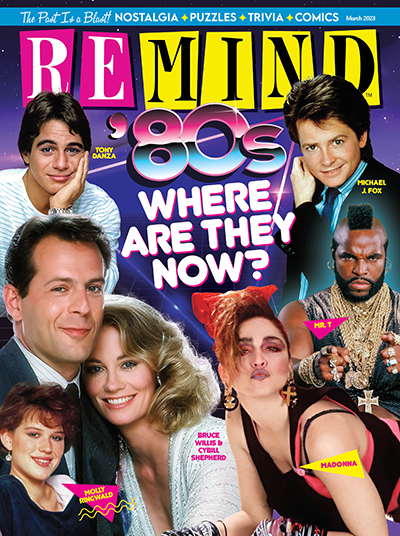 March 2023
Who can forget all the great TV shows, movies and music of the '80s? See what your favs are up to now!
Buy This Issue