Lynyrd Skynyrd's Last Original Member, Gary Rossington, Dies At 71
Gary Rossington, one of the founding members and last original member of Lynyrd Skynyrd, has died. He was 71 years old and had been suffering from heart problems for the past few decades. The band confirmed the sad news to fans on Facebook.
They wrote, "It is with our deepest sympathy and sadness that we have to advise, that we lost our brother, friend, family member, songwriter and guitarist, Gary Rossington, today. Gary is now with his Skynyrd brothers and family in heaven and playing it pretty, like he always does. Please keep Dale, Mary, Annie and the entire Rossington family in your prayers and respect the family's privacy at this difficult time."
Gary Rossington, the last original member of  Lynyrd Skynyrd, dies at 71
Rossington actually cheated death several times in his life, once in 1976 with a car accident that inspired the song "The Smell," and later in the 1977 plane crash that killed singer Ronnie Van Zant, guitarist Steve Gaines, and backing vocalist Cassie Gaines.
Born in 1951 in Jacksonville, Florida, he formed a band with his young friends, drummer Bob Burns and bassist Larry Junstrom. During a Little League baseball game, they met Van Zant and Allen Collins and decided to jam together. Eventually, they adopted the name Lynyrd Skynyrd and released their debut album in 1973. It housed one of their most popular songs of all time, "Free Bird." Despite the fact that it was an almost 10-minute song, it became one of their hits that stood the test of time along with "Sweet Home Alabama." Rossington was one of the band members of Lynyrd Skynyrd that was inducted into the Rock and Roll Hall of Fame in 2006.
While the group members of Lynyrd Skynyrd changed up often, Rossington remained in the band consistently over the years. Rossington also formed the Rossington-Collins Band in 1980. Their song "Don't Misunderstand Me" features the lead vocals of Dale Krantz, whom Rossington married in 1982. He was set to appear in the band's The Sharp Dressed Simple Man Tour alongside ZZ Top this summer.
He is survived by his wife Dale and their two daughters.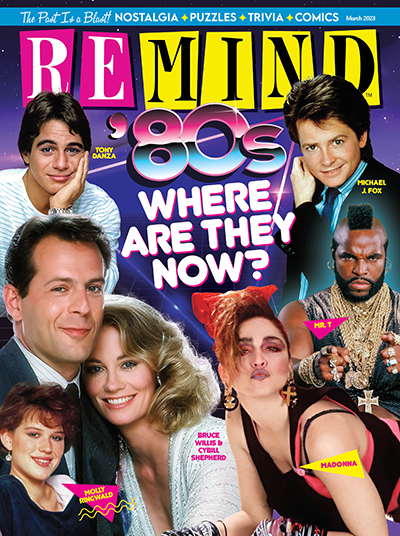 March 2023
Who can forget all the great TV shows, movies and music of the '80s? See what your favs are up to now!
Buy This Issue