Where Is '80s Sensation Adam Ant Now?
Do you remember the iconic moment when Adam Ant brushes on his legendary face paint, a trumpet sounds, and he yells "STAND AND DELIVER?" Adam Ant was truly an '80s icon known for his wacky fashion and catchy tunes from across the pond. He's best known for the hits "Stand and Deliver" and "Prince Charming" by Adam and the Ants.
Adam Ant was born Stuart Leslie Goddard but renamed himself because he said Adam was the first man and claimed that if there was ever a nuclear explosion, the ants would survive. In the mid-'70s he played in a band called Bazooka Joe and later formed his own band called the B-Sides. Eventually, he formed Adam and the Ants.
Whatever happened to '80s icon Adam Ant? Hint: he's still performing!
The band quickly found success but Adam Ant quit suddenly in 1982 and embarked on a solo career because he felt his bandmates lacked enthusiasm. His first solo single was called "Goody Two Shoes" and hit the UK singles chart, making fans across the world tap their feet. The more success he received, the more he wanted, so he soon moved to Hollywood to pursue an acting career. His most well-known role was in the 1987 film Cold Steel, alongside Sharon Stone.
While he was married twice to non-famous people, he dated a series of actresses including Jamie Lee Curtis and Heather Graham. He shares one daughter, Lily Caitlin Goddard, with his ex-wife Lorraine Gibson. Unfortunately, for all of his success, his life is not without some major struggles. Adam Ant was treated for depression, anorexia, and bipolar disorder in his 20s. His struggles continued and he was back in psychiatric care in 2010. Now, he aims to help people understand and get help for mental health issues and works with the Black Dog campaign, a UK mental health charity.
In the last decade, Adam Ant has continued to tour regularly. He's now 68 years old and had some live shows as recently as last year. His Friend or Foe tour rocked out in 2019 and was supposed to continue in 2020 but ended up getting canceled due to the COVID-19 pandemic. He resumed some of the tour in the UK in 2022.
His most recent album titled Adam Ant Is the Blueblack Hussar in Marrying the Gunner's Daughter came out in 2013. Reportedly, he recorded another album in 2014 but it has yet to be released. Adam Ant is set to be one of the headliners at the Cruel World Festival in Pasadena, California this May. Even though he may always be remembered as an '80s icon, he truly is still out there performing and making music!
What's your favorite Adam Ant song? Have you ever seen him live in concert? Let us know in the comments!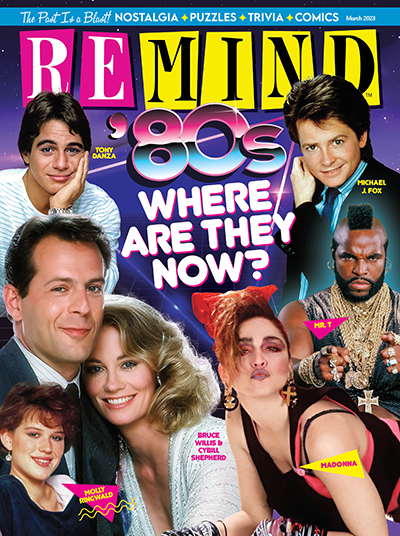 March 2023
Who can forget all the great TV shows, movies and music of the '80s? See what your favs are up to now!
Buy This Issue