Richard Simmons Turns 75… Where Has the Fitness Guru Gone?
If you worked out in the '80s, you likely knew who Richard Simmons was. His exciting personality and manageable workouts quickly catapulted him to fitness fame. However, years later in 2014, he seemingly disappeared. Fans wondered where he went and if he was okay. In 2020, he briefly reappeared to upload some of his old workout videos to YouTube, to help people stay in shape at home during the pandemic, then whoosh, he was gone again.
Simmons turns 75 today (July 12) and while he still stays out of the spotlight, he did give a short update to fans last year. His disappearance was so shocking that TMZ actually created a documentary about it last year called TMZ Investigates: What Really Happened to Richard Simmons. The special speculated that problems with his knees made him take a step back from his career and made him crave a quieter life. After the documentary aired, Simmons himself shared a short and sweet sentiment, and his rep, Tom Estey spoke with the press.
Estey said in a statement, "Richard is eternally grateful for the continuous outpouring of love and gratitude he has received from across the Globe. He is happy, healthy and living the life he has chosen to live," while Simmons wrote on Facebook, "Thank you, everyone, for your kindness and love. Love, Richard." The documentary and following messages helped to clear up some of the wild rumors that have come up over the years, including that Simmons was being held hostage at home by his housekeeper. He refuted those claims via phone to The TODAY Show in 2016.
Fans were happy and relieved to hear that Simmons is doing well and sent him messages of gratitude on Facebook for helping them to get into fitness years ago. Simmons' 1988 video Sweatin' To The Oldies was once the biggest-selling home fitness video of all time and he went on to create cookbooks and promote products on infomercials. Simmons also ran his own gym for a while. His workouts were accessible to people of all fitness levels, his bedazzled outfits were fun, and his happiness was contagious.
Simmons, who once said that he has always been more of an introvert, is now enjoying a quiet life in retirement at his home in the Hollywood Hills. If you're interested in watching the documentary, you can watch it on Hulu or Tubi.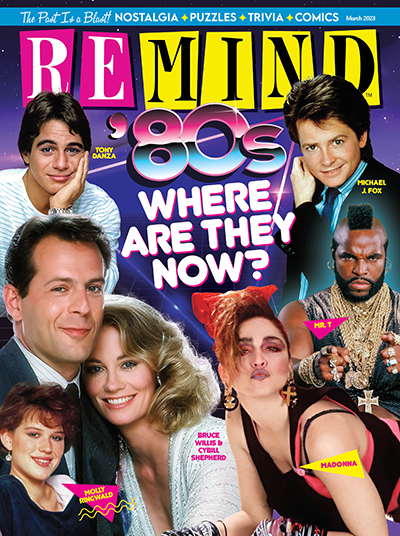 March 2023
Who can forget all the great TV shows, movies and music of the '80s? See what your favs are up to now!
Buy This Issue